Russia's Karjakin wins World Blitz chess title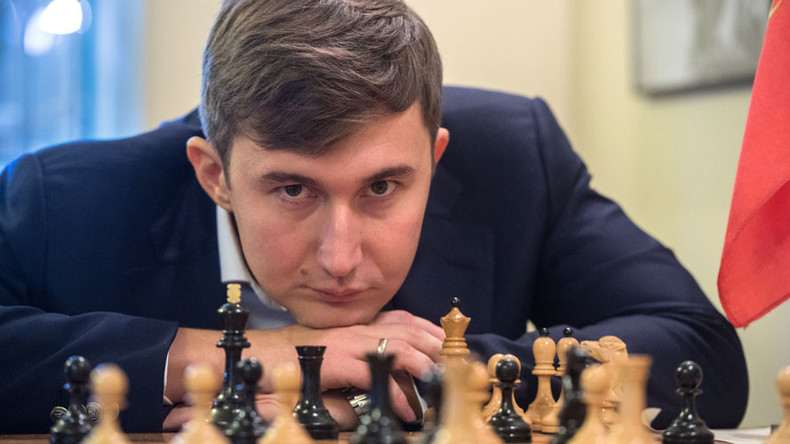 Sergey Karjakin has turned the tables on rival grandmaster Magnus Carlsen, winning the World Blitz chess championship in Doha, Qatar. It happened exactly two months after their duel in the classical World Chess Championship ended in a narrow victory for the Norwegian.
The Karjakin-Carlsen standoff in the Qatari capital was as closely matched as the one in New York in November. The Russian scored 16.5 points from 21 rounds of the fast-paced form of the game, and so did the Norwegian. But the first place went to Karjakin on tie-break.
A similar tie-break settled the third place, among the three contenders with 14.5 points each. Russian Daniil Dubov placed third, ahead of American Hikaru Nakamura and 2015 champion Alexander Grischuk.
Blitz chess limits the time each player has to three minutes and an additional two seconds per move, forcing a very rapid pace in a game typically lasting hours under regular rules.
Karjakin's world title in blitz chess is the first in his career while Carlsen has held it twice before – in 2009 and in 2014.
The female blitz chess champion this year is Ukrainian Anna Muzychuk, who scored 13 points in 17 rounds. Russians Valentina Gunina and Ekaterina Lagno took the second and third places, scoring 12.5 points each.
The two rapid chess titles, a slightly slower form of chess, which were also up for the taking in Doha, went to Ukrainian players, too. Vassily Ivanchuk was the best among the men and Muzychuk was the strongest in rapid chess.
Rapid chess allows 15 minutes to each player plus 10 second increments per move.
Karjakin told RT that he didn't expect to win either the rapid or blitz world titles.
"Ahead of this championship, I thought I only wanted to play chess here and take a rest from all the interviews and attention. I didn't set any big goals and just wanted to be in the top three in one of the events," he said.
He added that his mediocre performance in the rapid championship gave him the stimulus to try harder.
"I realized that my play in rapid was not even close to what my fans wanted. I got angry at myself," Karjakin said. "So, on day one [of the blitz] I managed to beat Carlsen, which was a beautiful continuation of our story in New York. And after beating the Norwegian, I realized I really could claim the champion's title."
You can share this story on social media: