Magnus Carlsen checkmates Russia's Sergey Karjakin to win nail-biting world chess playoff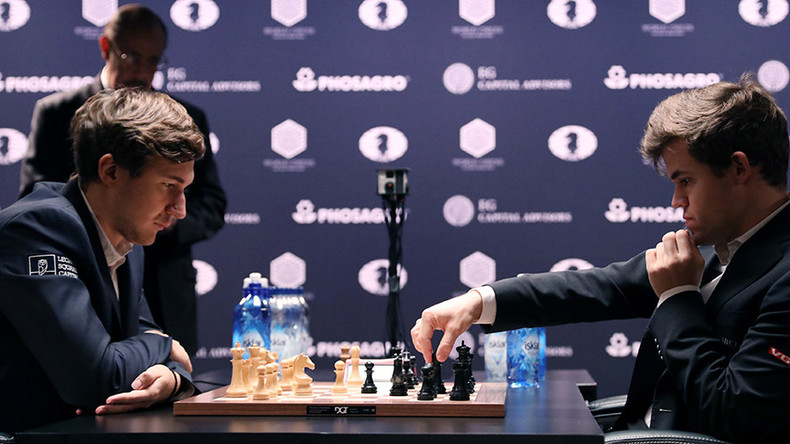 World chess champion Magnus Carlsen narrowly retained his title against Russian challenger Sergey Karjakin after the match went to rapid playoffs in New York. Carlsen played a brilliant queen sacrifice to force a checkmate with seconds on the clock.
Carlsen, who was celebrating his 26th birthday Wednesday during the vital rapidplay chess games, finally triumphed after Karjakin, also 26, forced the match into extra time playoffs with a series of brilliant reaguard defensive actions.
Carlsen, of Norway, thus wins his third world championship match. Although he was heavily tipped to win, he found the play of Russia's Karjakin, a former child prodigy born in Crimea, extremely difficult to break down.
The players were tied 6-6 after 12 classical length games, meaning that the match went into 4 rapidplay playoff games Wednesday. Carlsen won the rapidplay 3-1, winning the final two games after two draws.
Karjakin had frustrated Carlsen yet again in Game 2 of the rapids, conducting a cool defense of a difficult position and superbly holding a draw when it looked all but impossible. However, Karjakin's defensive technique failed him in the last two games, as Carlsen finally broke through in fine attacking style.
At the post-games press conference, Karjakin admitted there were flaws in his preparation for the rapidplay games.
"It was a very difficult match. I'm satisfied with the classical part, although there were some mistakes. But I was not fully prepared to play rapid chess, I played badly. Magnus exploited my mistakes and deserved the victory. Congratulations to him," the Russian grandmaster said.
Responding to journalists' questions, Carlsen too acknowledged that it was the toughest championship match he had played.
"In terms of world championship matches, it was the most difficult for sure, so it's more comparable, perhaps, to the Candidates and 2013 where I barely got through," he said.

"It was very tough, I mean, after Game 8. Before that, even though it was frustrating not to win some better positions I still thought that I was going to win, but after Game 8 I had all sorts of negative thoughts in my head and it was very difficult to settle down and play normally," Carlsen added.
Carlsen previously defeated world champion Vishy Anand in 2013 to take the title, and defended his crown against Anand again in 2014.
Karjakin, who changed his nationality from Ukrainian to Russian in 2009, was often cited as a potential challenger for the world title as a child, becoming the world's young grandmaster at the age of 12 years, 7 months.
Commenting on the overall impression of the match, Russian Chess Federation President Andrey Filatov said that it could be regarded as "great success" for the Russian grandmaster, who was playing on a par with Carlsen in classical chess.
"The Russian Chess Federation will continue to work and move forward, it is our goal. Russia's victories are in the future. I believe that Karjakin is capable of revanche and, in general, Russian chess players are capable of returning the chess crown to Russia," Filatov said, as cited by TASS.
For his part, Karjakin said that he would seek to contest the title again.
"Yes, of course, it's my plan," he said as all in the audience, including Carlsen, cheered and applauded. "I want to improve my play and I believe I will have another chance in the future."
The match was held November 11-30 in the renovated Fulton Market Building in New York City, close to Wall Street, and was avidly followed by hundreds of on-the-spot spectators daily and millions of online fans worldwide.
The match, organized by AGON Ltd for FIDE, the World Chess Federation, had a prize fund of 1 million euros ($1.1 million), and by winning the tie-breaks Carlsen took home 550,000 euros, with 450,000 euros going to Karjakin.
You can share this story on social media: