'Harry the Hornet out of order': Football mascot's mock dive sparks row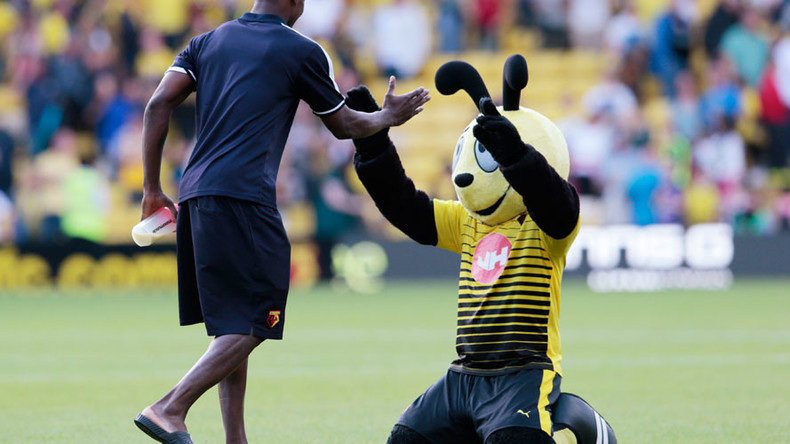 Watford FC mascot Harry the Hornet could have landed himself in trouble with the Football Association (FA) after mimicking diving striker Wilfried Zaha in the English Premier League match with Crystal Palace.
The mascot executed a mock dive in front of the Palace winger, poking fun at an earlier incident in the match at Watford's Vicarage Road when Zaha received a yellow card for a perceived dive.
New Palace manager Sam Allardyce, in his first role since resigning as England national team manager, said he was "bemused" by referee Mark Clattenburg's decision not to award a spot kick when Zaha fell to the ground in the penalty area on 87 minutes.
Instead, Clattenburg awarded a free kick to Watford and then proceeded to book Zaha for simulation, which perplexed both the Ivorian winger and his manager.
The game ended 1-1, with Palace having missed a penalty when Christian Benteke's effort was saved by Heurelho Gomes. Watford captain Troy Deeney scored his 100th goal for Watford after coming off the bench to score from the spot for the Hertfordshire club.
To add insult to injury, Watford mascot Harry the Hornet then performed the dive in front of Zaha, who turned and gave Harry a sarcastic clap and remonstrated with supporters before being escorted down the tunnel by Palace club officials.
Allardyce went on to say that the affair is up to the FA to resolve.
"The Premier League and FA can look at that and do what they want to do," said Allardyce, the Independent reported.
"That's up to Watford to sort that out really. It could have made the wrong reaction as we know. The mascot is out of order, isn't he? If someone is diving, they don't get that angry. But I'm concerned about my team and the overall performance."
Watford manager Walter Mazzarri's attitude to the incident was a little more laid back than Allardyce's.
"Let's all laugh together about this. Everything doesn't have to be a drama," the Italian said, with the customary aid of his interpreter.
However, the relationship between player and hornet seems to have simmered, with Zaha making light of the situation on Twitter by posting a picture of judges marking the dive out of ten in a tweet in which he tags Harry the Hornet.
The mascot himself then fired back at Zaha, indicating that his marking was too generous and instead posted a more modest score from celebrity judge Len Goodman, who appears on television dance programs 'Strictly Come Dancing' and 'Dancing with the Stars'.
I officially support @1HHornet.
He wouldn't have gone down if there wasn't any contact, he's a stand up guy & simply not that type of mascot

— Adam Leventhal (@AdamLeventhal) December 27, 2016
Harry the Hornet's account - @1HHornet - has also received dozens of tweets of support from amused football fans.