'Sad evening for football': Ligue 1 game abandoned after goalkeeper hit by firecracker (VIDEO)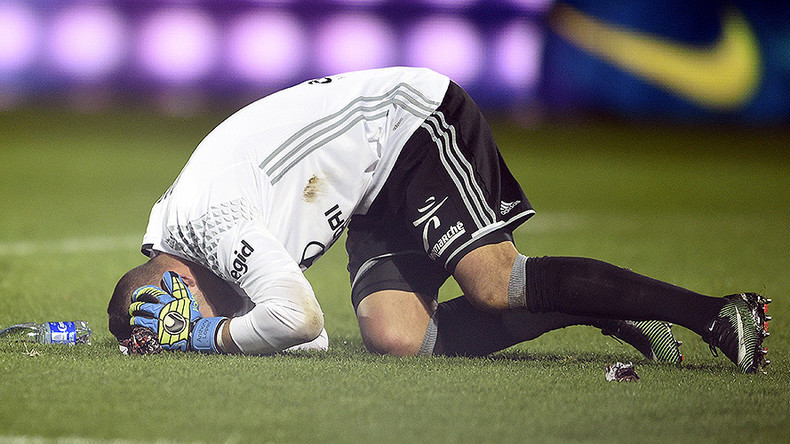 A French premier football division tie was abandoned after Lyon's goalkeeper was struck by an exploding firecracker.
The Ligue 1 match-up between Lyon and Metz lasted only 30 minutes on Saturday before at least two firecrackers thrown from the crowd disrupted the game.
The moment chaos erupted was shown live on television and reveals how Lyon's goalkeeper Anthony Lopes was targeted as he received on pitch medical treatment for an injury.
With Lyon's club doctor tending to the stricken 26-year-old goalkeeper, a firecracker can be seen landing on the pitch and exploding near a gathering group of players from both clubs.
Lopes then appears to roll away in pain, while one of the medical staff crouches down clutching his leg.
Metz defender Guido Milán, who seconds earlier had tried to stamp out the small explosive in vain, can also be seen arguing with supporters behind the goal.
In an online statement, Lyon described the incident a "sad evening for football."
"We've witnessed a sad evening for football this Saturday at the Stade Saint-Symphorien in Metz," it read.
"A firecracker was thrown by some spectators in the stand behind the Lyon goal, landing just near… Anthony Lope's face. The Portuguese international didn't have time to get up before another firecracker landed between his legs," it explained.
The match was eventually called-off and could see Metz forced to forfeit the match.
Lyon president Jean-Michel Aulas told reporters after the game that Lopes' eardrum may have been damaged, revealing that he was suffering from a loss of balance.
The French governing body, Ligue de Football Professionnel, has since condemned the episode, according to Le Figaro.
In a message posted on Twitter, Metz said their thoughts were with Lopes and that they hoped for "reassuring news soon."
An update on Lopes' condition reported that the 26-year-old underwent tests at Mercy de Metz hospital where doctors determined that he had sustained no lasting damage to his eardrum.
"In the coming days, the club will give additional information on the evolution of the health of Anthony Lopes, who will also have to overcome the psychological trauma caused by this odious aggression," Lyon said in a statement.