FIFA Confederations Cup Russia 2017 tickets now available for public sale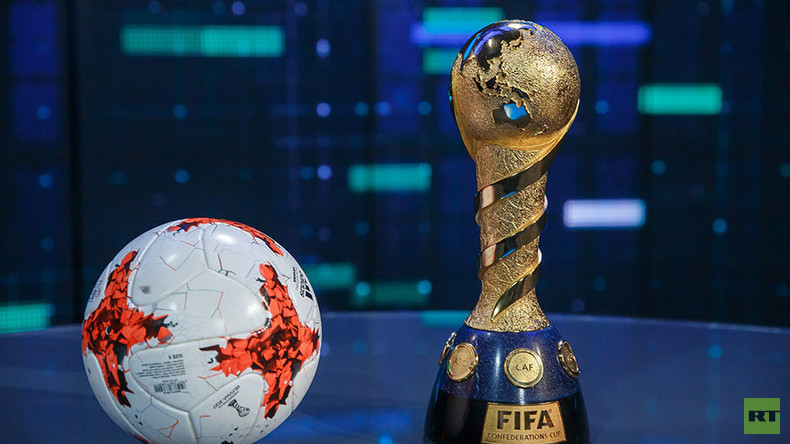 With the draw for the 2017 Confederations Cup in Russia now complete, FIFA has announced tickets to the showpiece competition are now available for public purchase from December 1.
The eight participating countries' routes to glory at the competition are finally mapped out and fans can now apply to attend matches at the 11 designated state-of-the-art stadiums located in 12 Russian cities.
From 2pm (Moscow time) Thursday, December 1, until January 19, football fans will be able to apply for tickets on the official FIFA website.
Tickets for all 16 tournament matches, including those in Category 4 – which are reserved for Russian residents – will be available for all fans hopeful of catching a glimpse of stars such as Portugal's Cristiano Ronaldo.
Members of the public can submit their application for any match during the sales period, with a draw determining the distribution of tickets should any one match be oversubscribed.
Each applicant has as equal chance of gaining tickets irrespective of when they apply, a notion implemented by FIFA to ensure the fairest issuing of tickets to fans possible.
"With the draw completed, the dream of fans is becoming a reality as they can now embark on their tournament preparations – starting with applying for tickets," said Head of FIFA Ticketing Falk Eller.
"The Tournament of Champions is a great opportunity for fans to watch the confederations' best teams, the reigning world champions, and hosts Russia on the very same stage that will host the FIFA World Cup the following year. Fans will not want to miss out on this event come next June and July," Eller added.
Applications will be determined successful, partially successful or unsuccessful and confirmation of their status will be provided to fans no later than February 28, 2017.
To attend FIFA Confederations Cup Russia 2017 matches, all fans have to receive a fan ID, which can be obtained online at www.fan-id.ru and is applicable for all matches.
The Confederations Cup is one of the major events in the world football calendar and is contested by the holders of each of the six FIFA confederation championships. They include UEFA Euro 2016 winners Portugal, 2016 OFC Nations Cup winners New Zealand, 2015 AFC Asian Cup winners Australia, 2014 FIFA World Cup winners Germany, CONCACAF Cup winners Mexico, and 2016 Copa America winners Chile
The draw for the tournament took place in Kazan on Saturday, with hosts Russia being pitted against New Zealand, Portugal and Mexico in Group A.
Group B contains the as yet unknown Africa Cup of Nations champions plus Chile, Australia and Germany.
During the Visa pre-sale period 48,504 tickets were sold, with a total of 695,000 tickets available for public sale.
Fans can purchase up to six tickets per match, up to a maximum of 10 matches. In addition, venue-specific ticket series are available, enabling fans to watch all the matches in one Host City.
The tickets will be delivered by courier service free of charge from April 2017. Special-access tickets will also be available for disabled people and people with limited mobility.
The Confederations Cup employs a group-stage and knockout phase format and will be held from June 17 to July 2 at Krestovsky Stadium in St. Petersburg, Otkrytie Arena in Moscow, Fisht Olympic Stadium in Sochi and at Kazan Arena.