First tickets for 2017 FIFA Confederations Cup in Russia go on sale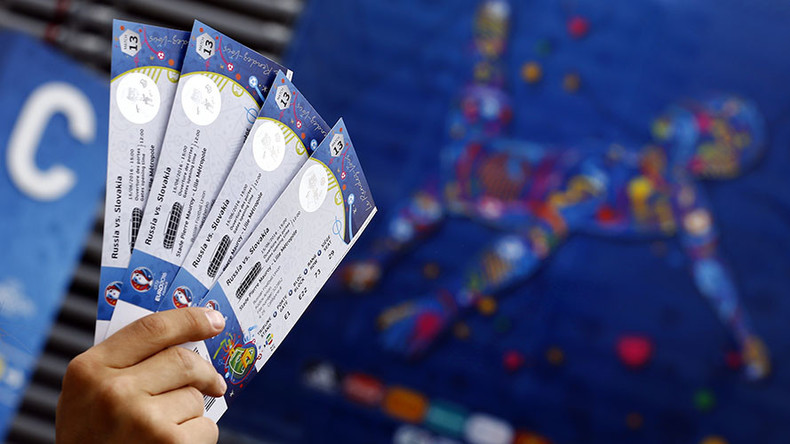 The first batch of tickets for the 2017 FIFA Confederations Cup in Russia matches went on sale on Tuesday for Visa customers.
All tickets including the opening match, the final and matches in each of the host cities – Moscow, St. Petersburg, Kazan and Sochi – are on offer in a special section of the FIFA official website.
Prices start at 960 rubles (USD$15) for Category 4 tickets, which are on sale to residents of Russia, and USD$70 for Category 3 tickets, which will be available for all other fans.
During the preliminary sale, which runs until November 17, payment can only be made using a Visa card and fans are limited to buying not more than six tickets for any one particular match and a total of 10 tickets for all matches. The tickets will be delivered free of charge and will be dispatched in April.
From November 8-17 fans can submit applications for "In Russia we cannot wait for this huge football festival. It validates the fact that more than 1 million people voted for the official FIFA Russia 2018 World Cup mascot and the huge quantity of candidates applications for volunteer roles at the Confederations Cup and the World Cup," FIFA commercial director Philippe Le Floc'h announced earlier, TASS reported.
tickets and how they will be distributed will be decided by the end of this date. If the number of applications exceeds the number of tickets for any given match, the distribution of tickets will be decided by a ballot draw.
The Confederations Cup is one of the major events in the world football calendar and is contested by the holders of each of the six FIFA confederation championships. They include UEFA Euro 2016 winners Portugal, 2016 OFC Nations Cup winners New Zealand, 2015 AFC Asian Cup winners Australia, 2014 FIFA World Cup winners Germany, CONCACAF Cup winners Mexico, and 2016 Copa America winners Chile
They will be joined by 2018 FIFA World Cup host country Russia and the yet to be determined winners of the 2017 Africa Cup of Nations, which will be decided in February.
It will be the first time goal-line technology, known as the Goal Decision System, will be implemented in Confederation Cup matches. The system can assess if the ball has completely crossed the goal line in between the goalposts and underneath the crossbar with the assistance of electronic devices, aiding the referee in the decision to award a goal or not.
READ MORE: FIFA president to visit Russia for 2017 Confederations Cup draw in November

The tournament employs a group-stage and knockout phase format and will be held from June 17 to July 2 at Krestovsky Stadium in St. Petersburg, Otkrytie Arena in Moscow, Fisht Olympic Stadium in Sochi and at Kazan Arena.
The official draw for the group stage will take place in Kazan on November 26.