South Africa cricket captain Faf du Plessis fined after 'Mintgate' row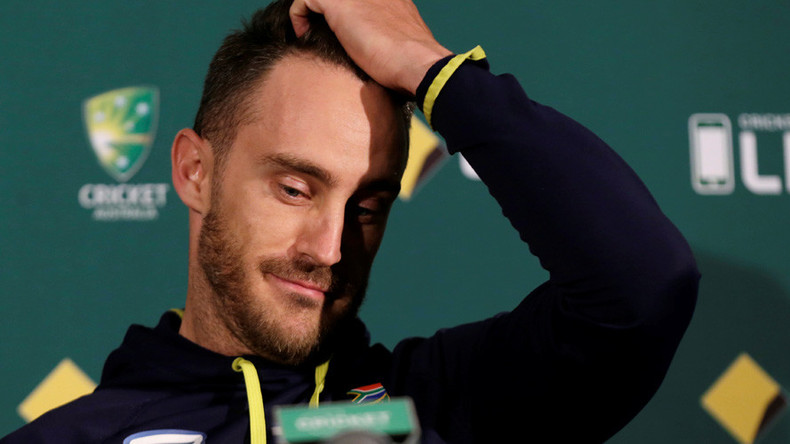 South Africa's stand-in skipper Faf du Plessis has been found guilty of ball-tampering during his country's second Test victory against Australia in Hobart, Tasmania.
The International Cricket Council (ICC) charged the batsman last week, after television footage appeared to show him applying saliva and residue from a sweet to the ball during the fourth day of the Test.
His actions were deemed to be in breach of level two of the ICC code of conduct relating to "changing the condition of the ball" using an artificial substance.
The 32-year-old pleaded not guilty to the charge, but was found guilty at a hearing before Andy Pycroft of the Elite Panel of ICC Referees and has been fined 100 percent of his match fee.
However, du Plessis is free to play in the third Test in Adelaide, which starts later this week. It is understood du Plessis will appeal against the verdict.
"The decision was based on the evidence given from the umpires, who confirmed that had they seen the incident they would have taken action immediately, and from Mr Stephenson (Marylebone Cricket Club (MCC) Head of Cricket), who confirmed the view of MCC that the television footage showed an artificial substance being transferred to the ball," an ICC statement read.
The batsman refused to discuss the 'Mintgate' controversy on Monday, leading to angry scuffles between an Australian TV reporter and South Africa's team security at Adelaide Airport.
Following the ruling, Cricket South Africa (CSA) stated they would "engage with the ICC on its Code of Conduct and process."
"Faf is obviously disappointed by the decision and I can understand that. In fairness to both him and the ICC, this is an unprecedented case involving unique issues of policy, science and performance that need to be carefully considered at the highest levels within the game," said CSA Chief Executive Haroon Lorgat at a press-conference.
"There are also other issues relating to fair and just process, interpretation of the rules and, importantly, the consistent application of the Code of Conduct that need to be considered," he added.
Proteas number 3 du Plessis was previously fined 50 percent of his match fee after being found guilty of ball-tampering against Pakistan in 2013.
Although he avoided a ban, du Plessis has had three demerit points added to his disciplinary record, meaning if he collects another point within the next two years he will be suspended.
Du Plessis has been deputizing as skipper for the injured AB de Villiers and led South Africa to victory in the series with a game to spare.
He made just seven runs in the second Test, but South Africa won by an innings and 80 runs to open up an unassailable 2-0 lead against a disappointing Australian side.