NFL's Mike Evans refuses to stand during national anthem while Trump is president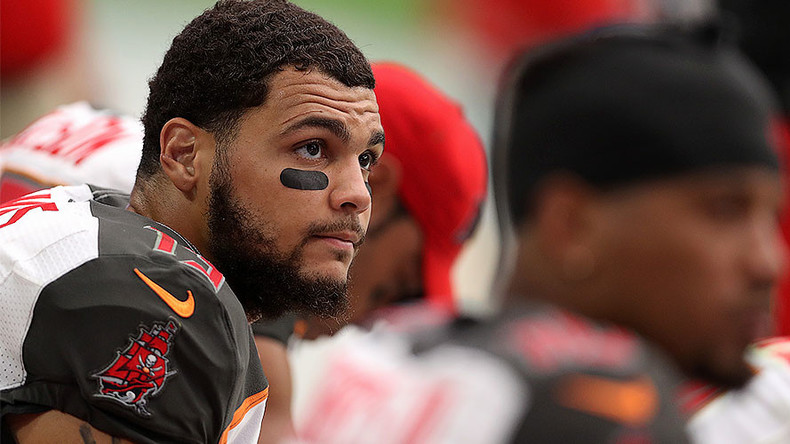 Tampa Bay Buccaneers wide receiver Mike Evans refused to stand during the United States national anthem before an NFL game in protest at Donald Trump's election as president.
Republican candidate Trump's surprise victory over Hillary Clinton to become the 45th US president last week sent shockwaves around the world. Protests are still ongoing in the US against Trump's election with many believing 70-year-old is too controversial to hold the post.
Evans refused to stand during the playing of the US national anthem ahead of Sunday's game against the Chicago Bears and said he would continue the protest while Trump remains in office.
"I don't want to disrespect the veterans or anything – the men and women that serve this country, I'm forever indebted to them," said Evans.
"But the things that have been going on in America lately, I'm not going to stand for that.
"When Ashton Kutcher comes out and says we've been Punk'd, then I'll stand again. But I won't stand anymore.
READ MORE: Dana White confirms Trump won't attend UFC 205
"I told myself, 'If this character' – I'm not big on politics or things like that – but I told myself, 'If this happens, then America is not right right now.'
"I said it a long time ago. When he ran, I thought it was a joke. The joke continues."
Evans' protest is the latest in a long line to have been staged in the NFL this season, following the lead of San Francisco 49ers' quarterback Colin Kaepernick who wanted to highlight racial inequality and social injustices in the US.
During his campaign, Trump said he would ban Muslims from entering the US and build a wall across the US-Mexico border, while in his first television interview since his election he told CBS he planned to immediately deport or jail up to 3 million undocumented immigrants.
Following the Buccaneers' 36-10 victory over the Bears, the club released an official statement defending White's right to protest.
"The Buccaneers are deeply committed to the military and honoring the great men and women that have dedicated their lives and have made great sacrifices to insure all the tremendous freedoms we have in this great country," it read.
"We encourage all members of our organization to respectfully honor our flag during the playing of the National Anthem.
"We also recognize every individual's constitutional right to freedom of speech, which is crucial to the American principles we cherish."
You can share this story on social media: