Kaepernick defends protests despite hostile reception in Buffalo
Published time: 17 Oct, 2016 10:53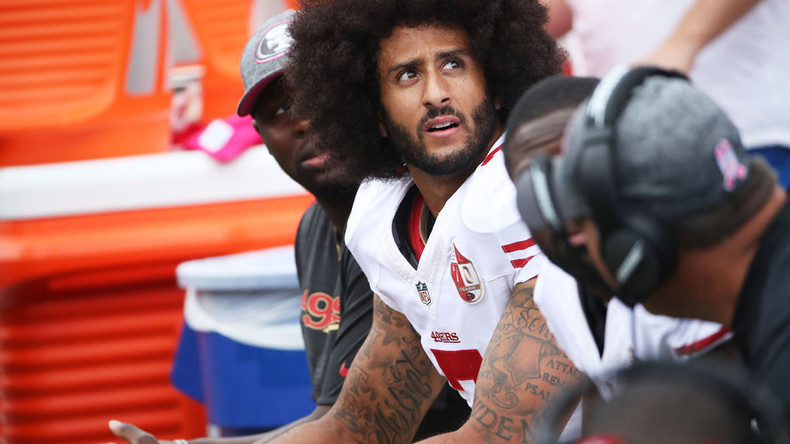 San Francisco 49ers quarterback Colin Kaepernick was heckled by Buffalo Bills fans on Sunday as he continued his national anthem protest, before finding himself on the wrong end of a 45-16 scoreline.
Kaepernick arrived at the game wearing a T-shirt with a picture of boxing legend and civil rights activist Muhammad Ali, who died in June.
The 28-year-old was joined by two teammates in kneeling during The Star-Spangled Banner, with a police officer standing immediately behind the trio.
Several other San Francisco players raised their right fists, but large sections of the crowd showed their displeasure by chanting "USA, USA" to indicate they felt the protests were unpatriotic.
"I don't understand what's un-American about fighting for liberty and justice for everybody, for the equality this country says it stands for," Kaepernick said.
"To me, I see it as very patriotic and American to uphold the United States to the standards that it says it lives by."
There was also hostility towards Kaepernick outside the stadium, where T-shirts were on sale depicting the quarterback in the crosshairs of a rifle.
The caption on the shirt read: "Wanted: Notorious Disgrace to America."
Kaepernick has divided opinion amongst NFL fans since pre-season for his protests against police brutality and social injustices.
There was some support for Kaepernick in Buffalo, with a small group of Bills fans staging a 'kneel-in' outside the stadium.
"That's huge – I think it's something that, once again, people are realizing that these are real issues that affect many people," Kaepernick added.
"It's something that has to be addressed. Until us as people recognize and address that some of us have privilege, some of us don't and some of us are able to do certain things without consequences and others of us can't. Those are all things that need to be addressed.
"Me as a black man that plays football and is considered a celebrity, I'm treated differently than a black man that's working nine to five in the 'hood.' That's just the reality of it. It shouldn't be that I'm treated differently than that person or he's treated differently than me.
"We're human beings, and it should be something that everybody is treated that way."