Dana White confirms Trump won't attend UFC 205
Published time: 12 Nov, 2016 20:45
Edited time: 13 Nov, 2016 03:21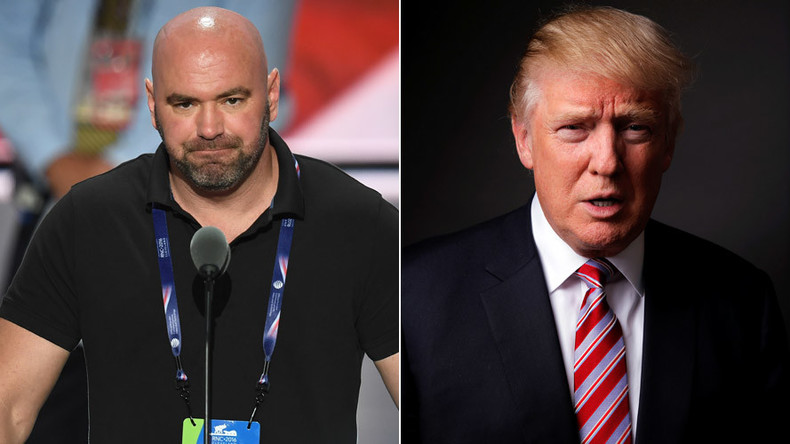 UFC head Dana White has confirmed US President-elect Donald Trump will not attend Saturday's landmark UFC 205 event in New York, despite previous rumors.
Trump told White that he would attend the event if he won the election, setting up the fascinating prospect of him being in the same building as Conor McGregor, but the UFC boss has admitted it won't be happening.
Following Friday's weigh-ins, White spoke to various members of the media and said that Trump was no longer expected to attend the event.
Trump was keen to attend the UFC's return to New York at Madison Square Garden, but according to the New York Post the Secret Service has advised him against it.
White threw his weight behind Trump during the presidential campaign and spoke at the Republican National Convention on Tuesday in support of his longtime friend.
The pair's friendship dates back to when the UFC was struggling for recognition and Trump allowed the company to host events in his Atlantic City casinos.
Trump sent White a message in 2011 congratulating him on the UFC's broadcast deal with Fox – something the UFC boss recalled during his address on Tuesday.
"I think that sense of loyalty and commitment will translate into how he will run this country," White said.
"And let's be honest folks, we need somebody who believes in this country, we need somebody who's proud of this country and who will fight for this country."
"Let me tell you something, I've been in the fight business my whole life. I know fighters. Ladies and gentleman, Donald Trump is a fighter and I know he will fight for this country."