Trump & McGregor in the house? What to expect from UFC 205
Published time: 11 Nov, 2016 15:37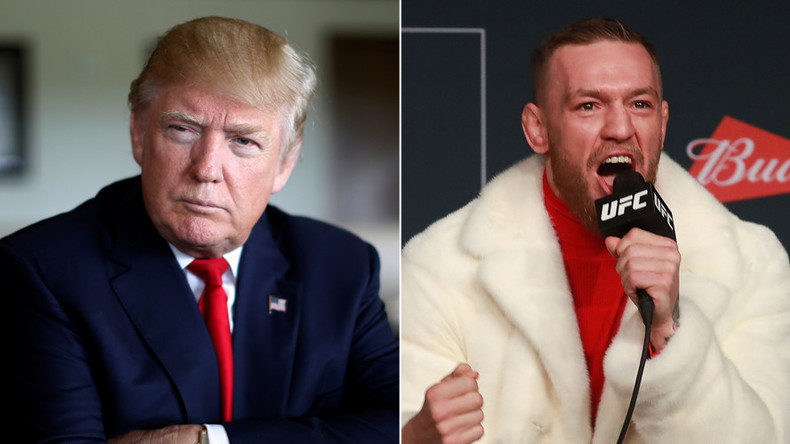 The UFC makes its triumphant return to the State of New York on Saturday at the end of a huge week in US history.
Donald Trump's presidential victory has been the biggest talking point over the last few days, and the shock win could mean the president-elect now has to make good on a pre-election promise made to UFC boss Dana White.
Trump told White he'd attend UFC 205 if he won the election – setting up the intriguing prospect of him being in the same building as Conor McGregor.
"Donald originally told me that he would come to the fight if he won [the election]," White told TMZ Sports.
"I don't think Donald really realized what his duties were gonna be had he won. I think he's meeting with Obama [Thursday] and then I don't know. We'll see, man."
"Listen, no pressure to come – but it wouldn't suck if he came."
The event will be the first hosted by the UFC in the State of New York after the longtime professional MMA ban was revoked earlier this year.
UFC 7 was the only previous event contested in the state, taking place in September 1995 at Buffalo.
The undoubted highlight of the night will be the eagerly awaited clash between McGregor and Eddie Alvarez.
The Irish fighter is aiming to become the UFC's first-ever dual weight champion as he bids to add Alvarez's lightweight title to his own featherweight crown.
READ MORE: McGregor 'focusing on history,' Alvarez predicting 2-round victory
The duo came face-to-face at Thursday's pre-fight press conference at Madison Square Garden and the event predictably descended into chaos.
McGregor threatened to throw a chair at Alvarez's head, but was held back by White as tempers flared.
The Irishman, wearing a long white mink coat, arrived 10 minutes late and forced an angry Alvarez to storm off stage, saying: "I don't even have an opponent."
McGregor spotted Alvarez had left his lightweight championship belt on the stage, and duly placed it on the table in front of him, next to his featherweight belt.
Alvarez stormed back onto the stage and ripped back the belt, sparking an angry confrontation between the pair which saw McGregor grab a chair and wield it towards the American.
White and UFC security stepped in to calm things down and prevent a repeat of McGregor's last pre-fight conference, where he and Nate Diaz engaged in an ugly bottle-throwing incident.
When the duo eventually took their seats, Alvarez demanded McGregor apologize for previously saying his family wouldn't recognize him after Saturday's matchup.
McGregor responded in typical fashion, telling Alvarez to: "Suck my big Irish b***s!"
He went on to repeat his prediction, saying he would "rearrange" Alvarez's face.
"He's too easily hit – it's happened to him his whole career," said McGregor. "You're talking to someone with my precision."
McGregor heads into the contest on the back of a grueling win against Diaz at UFC 202, while Alvarez is defending the lightweight title for the first time since winning it back in July with victory over Rafael dos Anjos.
Elsewhere on the card, Stephen Thompson will try to dethrone Tyron Woodley as king of the welterweight division, after Woodley claimed the crown from Robbie Lawler at UFC 201.
Unbeaten Polish fighters Joanna Jedrzejczyk and Karolina Kowalkiewicz contest the women's strawweight title, while Miesha Tate faces Raquel Pennington as she looks to bounce back from her loss to Amanda Nunes at UFC 200.
One of the main attractions on the undercard sees unbeaten Russian star Khabib Nurmagomedov face Michael Johnson.
READ MORE: Nurmagomedov added to stellar UFC 205 card
Nurmagomedov had hoped to be given a lightweight title shot at UFC 205, but saw McGregor parachuted in above him and he is desperate to produce an impressive performance in New York to ensure he catches the eye of UFC bosses.
MAIN CARD
Eddie Alvarez vs. Conor McGregor
Tyron Woodley vs. Stephen Thompson
Joanna Jedrzejczyk vs. Karolina Kowalkiewicz
Chris Weidman vs. Yoel Romero
Donald Cerrone vs. Kelvin Gastelum
Miesha Tate vs. Raquel Pennington
UNDERCARD
Frankie Edgar vs. Jeremy Stephens
Michael Johnson vs. Khabib Nurmagomedov
Tim Boetsch vs. Rafael Natal
Vicente Luque vs. Belal Muhammad
Jim Miller vs. Thiago Alves
Liz Carmouche vs. Katlyn Chookagian