Hot-headed boxer batters opponent then brawls with his trainer (VIDEO)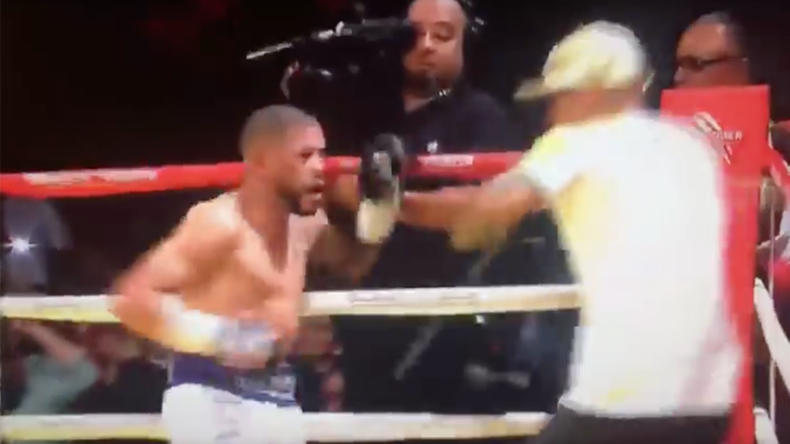 This is the moment ill-tempered Puerto Rican boxer Juan Manuel Lopez knocked out bitter rival and countryman Wilfredo Vazquez Jr. – then charged across the ring to brawl with his trainer.
Lopez launched a barrage of unanswered punches at Vazquez, forcing the referee to step in and save him from further punishment with just 31 seconds remaining in the 11th round of a fight drenched in acrimony in San Juan, Puerto Rico.
But as the referee waved off the fight in the Roberto Clemente Coliseum while cradling the stricken Vazquez, an apoplectic Lopez seemed to goad and scream at Vazquez's cornermen.
He then suddenly sprinted to the opposing corner and planted a left hook to the face of Vazquez's trainer, who was entering the ring.
After falling into the ropes, the trainer replied with his own punches and the two momentarily traded stinging blows before being separated by members of each other's entourages.
The two fighters also had to be separated from each other moments after the altercation.
Emotions had already run sky-high in the build-up to the fight which nearly led to an altercation at the weigh-in. Both men are proud former world champions who were fighting in front of a home crowd, and the added pressure deepened an already intense atmosphere.
Lopez, 33, is a former WBO World super bantamweight and featherweight champion and has a record of 35 wins with 32 knockouts against five losses.
READ MORE: Furious footballer faces jail after attack on rival fan in South America (VIDEO)

Vazquez, 32, also previously held the WBO World super bantamweight strap and sank to a record of 24 wins and seven losses after Saturday's defeat.
The two super featherweight fighters are admittedly in the twilight of their career and victory in the fight was paramount to the progression in their careers.
Following the stoppage, fans threw missiles and drinks into the ring, which carried on as the post-fight brawl erupted.
When the dust settled the two boxers did however display their mutual respect and came together to embrace in the middle of the ring.