Main Moscow Derby: What football ultras prepare for Spartak v CSKA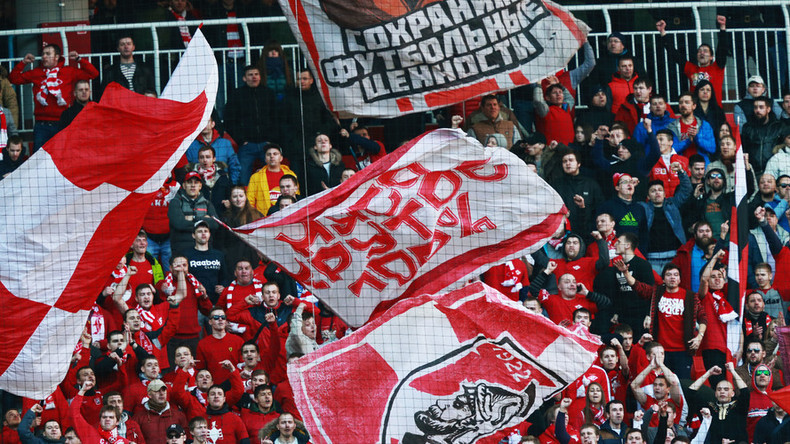 Two of Moscow's biggest clubs, Spartak and CSKA, will meet today to contest the 'Main Moscow Derby' in their Russian Premier League match at Spartak's Otkrytie Arena, and the home fans are preparing quintessential Russian support.
Russian football ultras constitute the core of a club's fans, who organize intricate and artistic visual and audio performances, as well as fanatically supporting their team.
Spartak 'Fratria' ultras are the largest of any Russian club. The group, which lives by the motto "One for all, all for one," was established in 2005, and the intensely competitive derby (rivalry) with CSKA is of extra importance to their loyal fans.
Fratria's leader, Pavel 'Pauk,' organizes support on Spartak's 'fanati' stand, a portion of the home Otkrytie Arena dedicated to visual and audio support. The 32-year-old Muscovite has been following Spartak since his first game 20 years ago.
"The derby with CSKA is the most principal match in recent Russian football history. Back in the day it was Spartak versus Dynamo. But with time the derby with CSKA has become the biggest in Russian football," says Pavel.
"We are focused on that match as it's the most important match in the season for us. That's why we have to show our best. It is an indicator of all... we do during the whole season."
CSKA were formed as the football club of the Russian military, and correspondingly adopted the nickname 'The Army Men,' although they are often referred to as 'Koni,' Russian for 'horses.'
Spartak were formed by trade unionists in 1922, and became known as 'the people's club,' as well as having the nickname 'Myaso,' Russian for 'meat.' Over the years, their rivalry intensified as both sides challenged for major honors, eventually becoming the biggest game in Russian football.
The two sides have a history of hooligan clashes. More than 1,100 law enforcement officials will be deployed to the match, where the two rivals' more active elements of support meet to settle scores that cannot be decided on the pitch.
Read more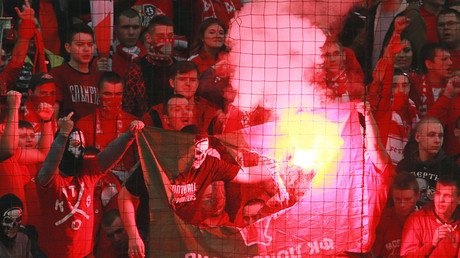 These types of fans are not part of Fratria, who constitute Spartak's organized support, and whose name means 'brotherhood' in Greek. Their passion lies instead in putting on spectacles.
"There were two derbies, eight years apart that were the most memorable for Spartak fans," says Pavel. "The first was played on March 31, 2001, when Spartak won 1-0. There were a lot of things happening during that day. There was a big clash in the city center, in which Spartak came out winners.
"Plus the atmosphere in the stands. Back in the day, it was total anarchy and primal hooliganism, so to speak. And of course, the match eight years later in 2009, when we finally beat CSKA after a long losing streak."
The impact of noise and visual support is paramount. This competition of creativity and wit is the only off-field battle that Russian ultras pay attention to winning. This competition is intensified for the Main Derby.
"Any Spartak vs. CSKA match is not only an on-the-field battle, but also is the rivalry on the terraces. We are going to put [on] a show and will try to show our creativity at its best. We have some good ideas. We hope people will like it. Plus, the noise level. We will make sure that no one will hear the horses (CSKA fans) in our stadium.
"The preparation for the derby, considering all the parts of it, takes 2-3 weeks, or even a month, depending on the level of the show we are planning on making. But we always make really big shows for the derby!"