Russian football fans choose 'Zabivaka' the wolf as mascot for World Cup 2018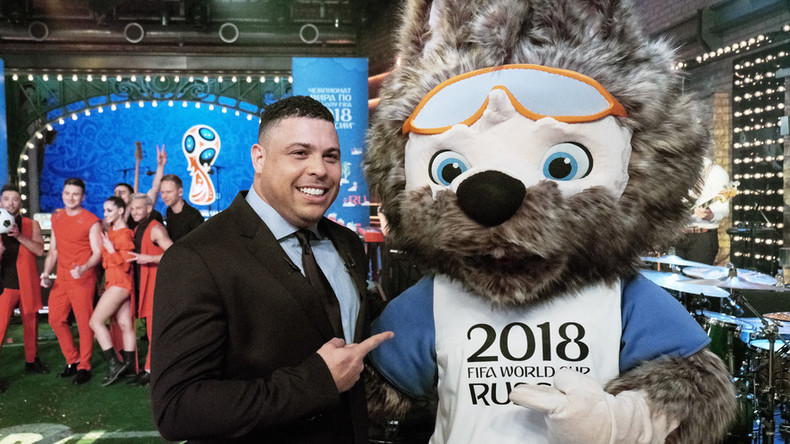 A wolf named Zabivaka has been chosen as the official mascot of the upcoming FIFA football World Cup which will be held in Russia in 2018, gaining more than 53 percent of a nationwide vote.
The vote was held across Russia over the course of a month, with a wolf, a cat, and a tiger comprising the candidates. In the end, Zabivaka proved to be a runaway winner, attracting more than half of a whopping one million plus votes cast.
The mascot will make his debut at the 2017 Confederations Cup, which will also be held in Russia in four different cities: Sochi, Moscow, St. Petersburg, and Kazan.
Developed by student designer Ekaterina Bocharova, Zabivaka is described as the "youngest player on the squad, but you won't find anyone faster, bolder, or more skillful with a football."
Zabivaka, whose name means 'the one who scores' in Russian and is rooted in the verb 'to score' (zabivat) also reportedly has a rather distinct character.
According to the FIFA.com website, his personality traits include being charming, confident and social; he is a fair player and always fun to be around; and he likes to make other people laugh. He also wears special glasses he believes give him special targeting powers on the pitch.
Zabivaka's selection was announced on Saturday on a popular Russian late-night television chat show, hosted by comedian and presenter Ivan Urgant, that was attended by special guests. Among them were FIFA 2018 World Cup Local Organizing Committee Chairman Vitaly Mutko and Brazilian footballer Ronaldo, who scored both goals in the 2002 World Cup final to secure the win for his country.
Mutko, who is also the head of the Russian Football Union (RFU) and a member of FIFA's executive committee, said the role of the mascot includes inspiring supporters, while expressing confidence that Zabivaka would be more than up to the task.
"Today we poked fun at our national team, but we don't have a bad side," Mutko said on the program. "We have decent players, including Smolov, Dzyuba, Akinfeev, as well as youth players who have come through the team. So, the wolf suits a lot of our guys and will personify the squad."
Ronaldo, whose full name is Ronaldo Luís Nazário de Lima, said he hoped Zabivaka would become as famous as Fuleco the armadillo, the mascot of the World Cup held in Brazil earlier this year.
READ MORE: FIFA refuses rock concerts at Russian stadiums in run-up to World Cup
"I was involved in the organization of the last World Cup, and I can say that Fuleco became extremely popular," said the ex-Barcelona and Real Madrid striker. "I'm sure that it will be the same in Russia.
"It is a major event for the whole footballing world and will present every footballer with the chance to prove themselves. Unfortunately, Brazil won't be at the Confederations Cup, but I very much hope they will qualify for the World Cup, which they are doing everything to achieve.
"Russia will be the host nation – following on from Brazil. Many put their hopes on the host nation, but usually they don't quite justify these hopes."
The 2018 Russia World Cup will be played in 12 venues in 11 different Russian cities from June 14 to July 15.
You can share this story on social media: