Russian women's national futsal team on hijabs: 'Our girls are already used to it'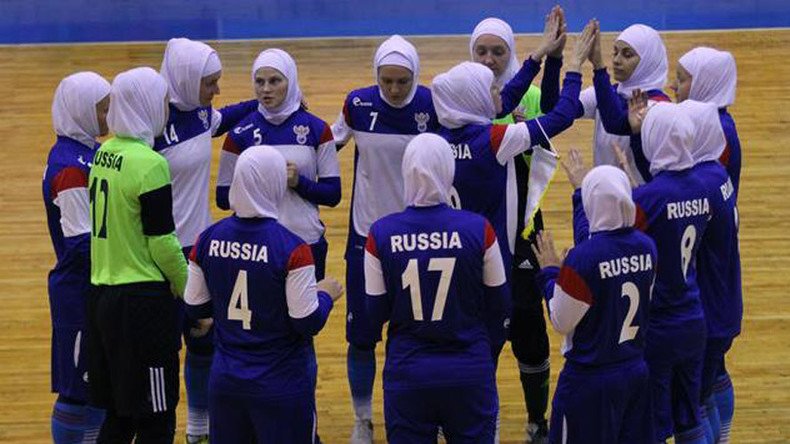 The hijab has often split opinion in the sporting world, but the Russian women's mini-football (futsal) team have fully embraced the traditional Muslim garment – by wearing it during a friendly tour of Iran, where it is compulsory for women.
"Our girls say that they are already used to [wearing the hijab]," says Aleksandr Kochetkov, executive director of the futsal club Dina. "Russia's women's mini-football team played two friendly matches in Iran, and both teams had to play in hijabs."
"The Russian futsal association enjoys a very close working relationship with Iran; it is the leading futsal nation in Asia. It was no fluke the men's national team finished third in the previous World Cup, having beaten Brazil and Portugal, they are a very strong team. Mini-football in Iran is the number one sport at all levels.
"Our team travels a lot to Iran, and Iran often travel to where we are. When we play here, at our national team camp, the Iranian women play in hijabs and pants. In accordance with the Muslim religion they are not allowed to show their arms and legs or hair. Russia play in our usual futsal kit. When our girls play there, it is in headscarves and trousers.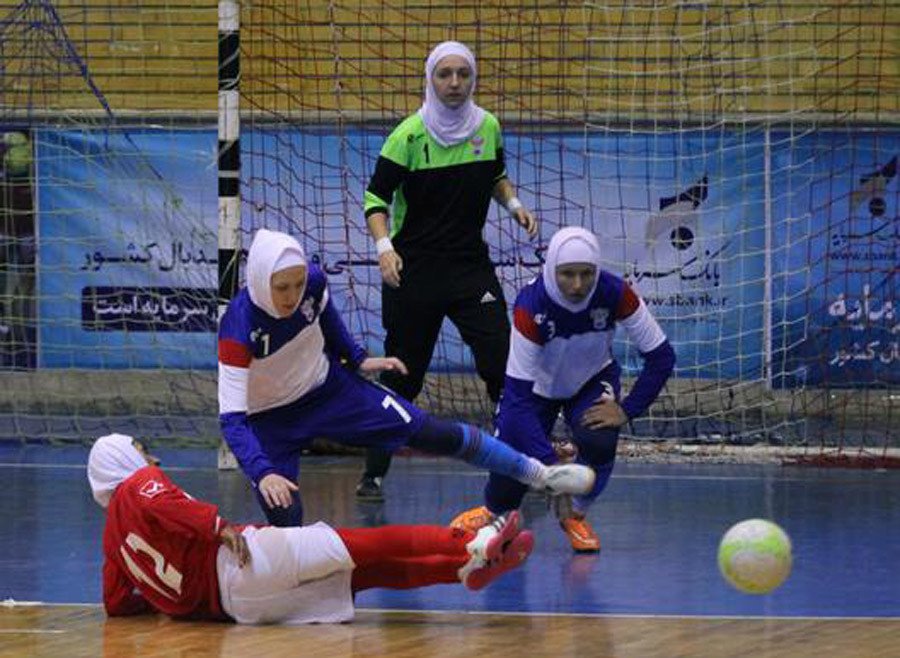 "It is out of respect for the Muslim religion."
Russia drew the first of their matches 3:3 but were victorious in their second outing, winning by a 5:3 scoreline.
The hijab has been compulsory dress for women in Iran since the Islamic Revolution in 1979, with the threat of possible arrest, fines or reprimands if they refuse to comply. The garment has split opinion when sport and Iranian culture overlap.
The garment was generally viewed positively at this summer's Rio 2016 Olympics, when it was donned by the Egypt duo Nada Meawad and Doaa Elghobashy in their match against Germany, whose players opted for the traditional two-piece bikini.
The International Volleyball Federation (FIVB) relaxed its dress codes for the London 2012 Olympic Games to include head scarf and trousers, with spokesperson Richard Baker saying the sport wanted to "open it up culturally."
However, last month female chess players accused the World Chess Federation (FIDE) of "failing to stand up for women's rights" after it said competitors must accept local law and wear hijabs during the world championship in the Iranian capital of Tehran.
READ MORE: Obligation to wear hijab at chess worlds in Iran sparks controversy

The decision to hold the tournament in Tehran drew a backlash from leading grandmasters. US women's champion Nazi Paikidze boycotted the event, stating she believed it "unacceptable to host a WOMEN'S World Championship" where women are deemed "second-class citizens."
The republic also attracted controversy this summer when campaigner Darya Safai bore a flag with the message "Let Iranian women into their stadiums" at a men's volleyball match involving Iran at the Rio Olympics.
READ MORE: Olympic security tell Iranian women's rights activist to take down equality banner

Safai was referencing the ban on women attending football and volleyball matches in Iran, which is an attempt to enforce further strict interpretations of Islam at social gatherings.
In a twist of irony, she was also ejected from the Rio stadium by stewards.
You can share this story on social media: