Anastasia Yankova continues winning streak at Bellator 161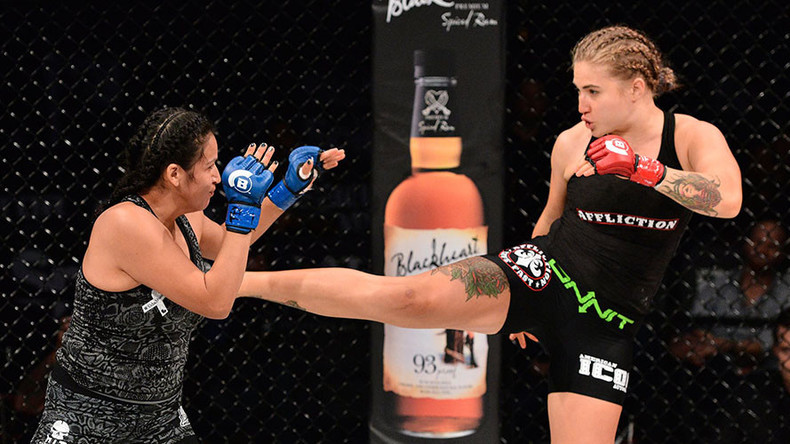 Russian MMA fighter Anastasia Yankova maintained her perfect professional mixed martial arts record by defeating Veta Arteaga by split decision at Bellator 161 on Friday night.
Having won her debut Bellator bout in style with a first-round submission against Anjela Pink back in February, there has been a buzz around Yankova as one of MMA's rising stars.
READ MORE: Yankova impressive in Bellator debut
In a brutal encounter in Cedar Park, Texas, Yankova stretched her professional MMA record to 4-0, winning by split decision 29-28, 28-29, 29-28.
A strong third round clinched the bout for the Russian, who had to absorb some punishment during the 15 minutes of bruising action.
Arteaga came out the stronger and a number of powerful strikes had Yankova on her knees and backing up against the cage in the first round.
However, Yankova gave just as good as she got and displayed her "Russian spirit" that she boasted about before the clash.
READ MORE: 'I have Russian spirit, which my opponent has never met' – Yankova on upcoming fight with Arteaga
Yankova's varied attack was on display as a host of strikes and kicks hurt the American over the course of the bout.
A strong right elbow and straight left in the final five minutes had Yankova in the ascendancy, with Arteaga looking less energetic in the third round.
Despite the Texas crowd booing the judges' decision on the fight result, the Russian Thai boxing champions gave the pros to her opponent, and stated that it was the hardest fight in her carrier.
In an emotional post fight interview Yankova also said that she doesn't see herself as a 100 percent winner of the bout, and asked Bellator to give her and Arteaga one more fight to clarify who is the better fighter.