'Without euthanasia papers, I'd have already done suicide' - Belgian Paralympic athlete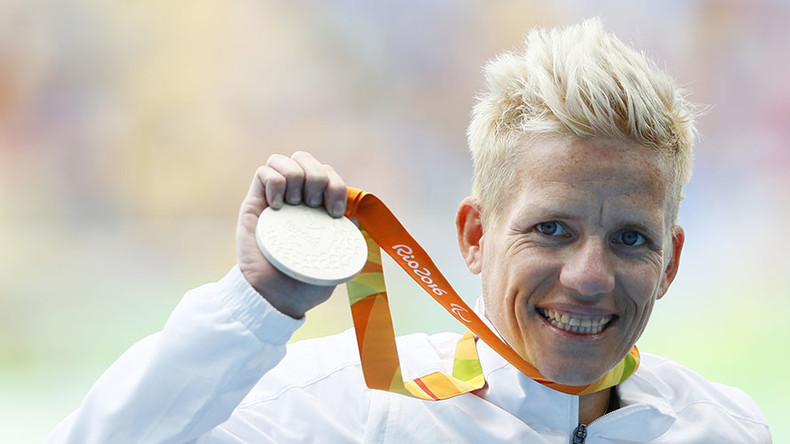 Belgian Paralympic athlete Marieke Vervoort admitted last night that without the prospect of euthanasia she would already have taken her own life.
Vervoort, who won a silver medal in Saturday's T52 400m race at the Rio Games, signed euthanasia papers in 2008. The practice is legal in Belgium.
During an emotional press conference, the 37-year-old said she took comfort from knowing she held her destiny in her own hands, despite living with an incurable and degenerative spinal condition.
"It is really difficult to get those papers," Vervoort said, the Guardian reported.
"You have to see different doctors for them to see that you have a progressive disease or a mental disease.
"You need three different signatures from doctors and to talk with a psychiatrist to see if it is really what you want.
"I signed my papers because it really hurt to handle and suffer with this disease, but the euthanasia gives me a feeling of rest.
"If I didn't get those papers, I already would have done suicide. With those papers I am still alive."
Euthanasia has divided public opinion over the moral, ethical and legal issues of the practice.
READ MORE: London Paralympic champ Vervoort considers euthanasia after Rio 2016

Many people argue that life should be sacred, while supporters of euthanasia say it helps alleviate suffering and preserves self-determination, bodily integrity and personal autonomy.
Countries where euthanasia is legal include the Netherlands, Belgium, Canada, Colombia and Luxembourg.
"I hope other countries can talk about it as it doesn't mean that when people sign the papers, they have to die two weeks later," added Vervoot.
"I signed mine in 2008. Look now, 2016 and I won the silver medal yesterday.
"I hope euthanasia is something that does not mean murder. It gives a feeling of rest to people. I live with a good feeling.
"Now my fear of death is gone. Assisted death is something like they operate on you, you go to sleep and never wake. It feels like it will be peaceful. I don't want to suffer when I die.
"Whatever happens, I have my papers in my hands. But I am enjoying every little moment."
Vervoort has turned to Buddhism to help her cope with her condition, while she has also made a 'bucket list' of things she wants to do before she dies including skydiving, flying in an F16 jet and competing in a rally race.
The Rio Games are Vervoort's final Paralympics, but she hopes to remembered by people in a positive light.
"Money means nothing to me," Vervoort said. "But I am a rich person.
"I want people to remember me as the lady who is also laughing. And when I am suffering, that I am still looking at the good things.
"When I finish it is going to be very hard. I am going to cry very hard. But I want to inspire people to live day by day."
You can share this story on social media: