Russia finishes 4th in Olympics medal table despite track & field ban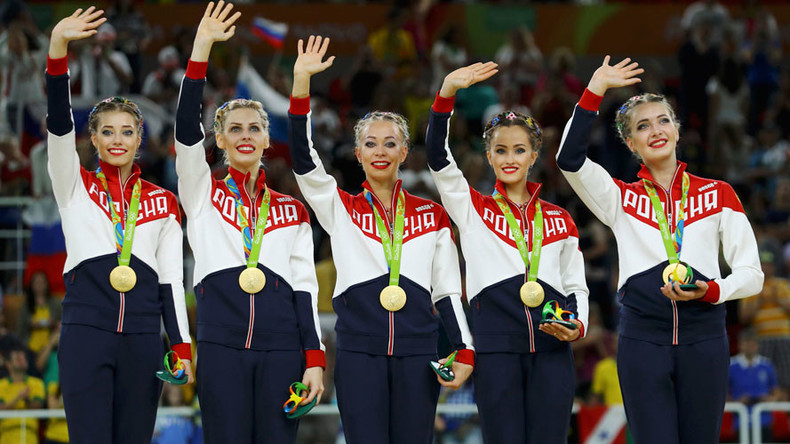 With its track and field athletes banned from the 2016 Olympic Games, Russia could be excused for not looking back at Rio with any great fondness. However, the event still provided some memorable moments for the sporting powerhouse.
With 19 gold, 18 silver and 19 bronze medals, Russia finished fourth in the standings, behind the US, Great Britain and China.
Russia's wrestlers led the way with nine medals, with Roman Vlasov's performance in claiming the Greco-Roman 75kg class gold for the second successive time a standout moment.
The women's all-around rhythmic gymnasts made it five golds in a row to help the team to eight medals overall in the sport, while Russia's fencing team added a further seven.
READ MORE: Gymnasts win gold in Rio to guarantee Russia 4th in overall standings
Four gold medals for the fencers saw coach Ilgar Mamedov honoring his promise to have his head shaved if his team brought home at least two golds.
Team saber champion Sofya Velikaya also earned the rank of captain in the Russian Army just days after becoming an Olympic champion.
Russian judoka Beslan Mudranov had the honor of winning his country's first gold medal at the Games with victory in the men's 60kg category on the first day of the event.
Elena Vesnina and Ekaterina Makarova made up for Maria Sharapova's absence from Rio by winning the women's doubles tennis title, while boxer Evgeny Tishchenko defeated Kazakhstan's Vasily Levit to claim the prestigious heavyweight gold medal.
Team Russia enjoyed a spectacular final Saturday in Rio by winning its first ever Olympic gold in women's handball.
There were further gold medals in men's freestyle wrestling, women's individual artistic gymnastics, and the men's individual modern pentathlon to complete a stunning day.
Russian swimmer Yulia Efimova claimed two silver medals, but her appearance at the Games was marred by spectators booing and criticism from her rivals.
Efimova was initially banned by the International Olympic Committee (IOC) because of two failed tests for meldonium, but had the suspension lifted by the sport's governing body, FINA, after the World Anti-Doping Agency (WADA) admitted it was unsure how long the substance – which was only banned this year – stayed in the body.
Russia's sole track and field athlete at the Games, Darya Klishina, failed in her medal bid after finishing ninth in the women's long jump final.
The Rio Games also marked the end of Russian pole vaulter Yelena Isinbayeva's brilliant career.
Isinbayeva competed in three Olympic Games – at Athens 2004 and Beijing 2008, where she won gold, and London 2012, where she collected bronze.
The 34-year-old was barred from competing in Rio following a blanket ban on the Russian track and field team from the International Association of Athletics Federations (IAAF), after allegations of a state-sponsored doping program were presented in a WADA report.
Isinbayeva claimed whoever won the women's pole vault in her absence would not have achieved a proper gold medal, and her season's best of 4.90 meters was 5cm better than Ekaterini Stefanidi's winning mark.
During the Games, Isinbayeva was elected to the IOC Athletes' Commission, despite still serving her sanction.
As a member of the commission, which serves as a link between athletes and the IOC, Isinbayeva reiterated that she would do everything for Russian athletes to get back into international sport.