Team Russia snatches 4 gold medals in a row at Rio Olympics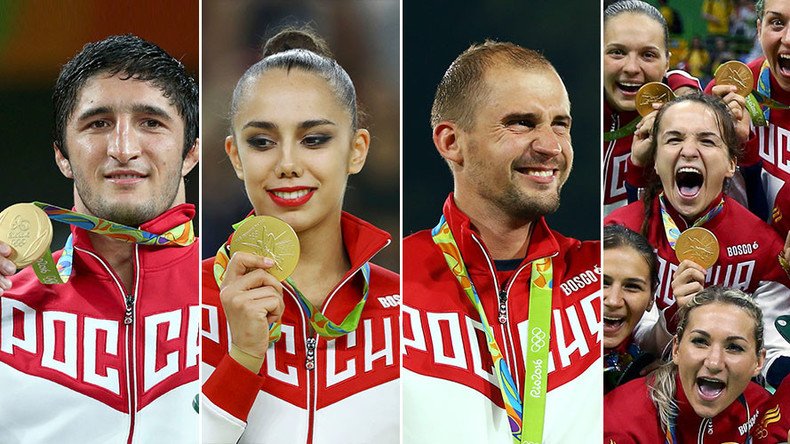 Team Russia snatched its first ever Olympic gold in women's handball, while first place finishes in men's freestyle wrestling, women's individual artistic gymnastics, and the men's individual modern pentathlon added to Russia's gold medal count on Saturday.
Handball
Team Russia won 22-19 during the duel with France on Saturday. It is the first ever gold medal for the women's handball team at the Olympic Games. During the 2008 Olympics in Beijing, it took silver.
This gold medal is the fourteenth team Russia has won during the Brazil Games. It has also taken a total of 16 silver and 19 bronze medals.
Following the victory, Russian Sports Minister Vitaly Mutko applauded the team, saying that it has opened a new era for Russian handball.
"Great job, it was a crazy game. The Russian win at the Olympics – this is a new era in our handball," Mutko said.
The head coach of the Russian Women's handball team, Evgeniy Trefilov, praised his athletes, saying that their achievement was "unbelievable."
"We have not yet fully understood and realized, but it's incredible. I think this victory will give a great boost to the development of handball and sports as a whole," Trefilov said.
Speaking with journalists, Russian iconic pole vaulter Yelena Isinbayeva said that the Russian handball victory at the Olympics would boost the school.
"The girls did well, they are real fighters. They demonstrated superb handball throughout the Olympics without suffering a single defeat. A deserved victory for true heroes."
Gymnastics
Russian gymnast Margarita Mamun has won a gold medal in the women's artistic individual all-around at the Rio 2016 Olympics, bringing Russia's medal tally to 15.
The victory was achieved with a total score of 76,483 for four exercises. Silver was claimed by another Russian artistic gymnast, Yana Kudryavtseva, who earned 75,608 points.
As many as eight artistic gymnasts from Russia, Azerbaijan, Belarus, France, Spain, and South Korea made it to the finals.
Freestyle wrestling
Meanwhile, Russian wrestler Abdulrashid Sadulaev picked up another gold medal for Team Russia on Saturday by beating Turkey's Selim Yaşar in the men's 86-kilogram freestyle finals.
Pentathlon
Another gold was snatched by Russia's Alexander Lesun, who came in first in the men's individual modern pentathlon event with an overall score of 1,479 points. Pavlo Tymoshchenko from Ukraine took silver, scoring 1,472 points, while Ismael Hernandez of Mexico won the bronze with 1,468 points.
You can share this story on social media: