'Response to injustice': Barred from Rio Games, Isinbayeva wins seat on IOC athletes' commission
Published time: 19 Aug, 2016 03:17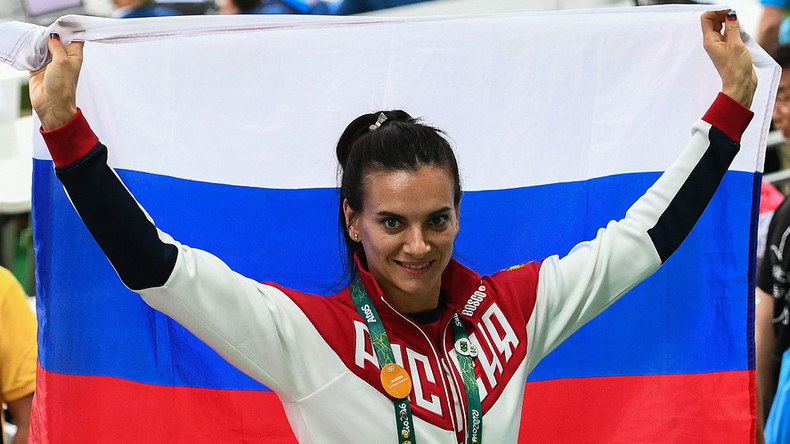 International athletes have elected two-time Olympic pole vault champion Yelena Isinbayeva to the IOC commission that defends their rights in a symbolic "response to injustice" after the world record holder fell within a blanket ban from the Rio Games.
On Thursday, current world record holder Isinbayeva officially became one of the four new members of IOC athletes' commission – a body which serves as an important link between competitors and Games organizers and defends the interests of sports people.
More than 5,000 athletes from all over the world voted in the elections which are held at each Olympic Games. Isinbayeva who was one of the 23 candidates turned out to be one of the top choices. Some 1,365 Rio Games participants cast a vote for the pole vaulter. The other three athletes elected to the commission were from Germany, Korea and Hungary.
Isinbayeva said her victory in the elections is a huge blow to the IAFF which banned her along with Russia's entire track and field team from the Rio Games.
The pole vaulter arrived in Rio de Janeiro on Monday specifically to take part in the vote. Addressing the issue of the ban, Isinbayeva promised to be "a very active member of the IOC athletes' commission" and to prevent the reoccurrence of any injustice against athletes in the future. She will now serve an eight year term on the commission.
"I don't have a specific plan. I need to get used to everything but nevertheless I will be an active member of the IOC athlete's commission since the situation in which I find myself today is unfair. I would like to prevent any future unfairness particularly that regarding Russian athletes. Today I have the power and possibility to do so," Isinbayeva said.
"I would like to say thank you to all people who voted for me. I am very happy to work for the Olympic movement. I am happy to be a bridge between Russia and the IOC."
Isinbayeva's victory in the elections is "athletes' response to injustice" and a "serious lesson for the IAFF", the head of the Russian Olympic Committee said, adding that Yelena fully deserves to be a part of the commission.
"It is highly symbolic she was elected at a time when she was banned from the Olympic Games. It is athletes' response to injustice. It is her victory," Aleksandr Zhukov said.
"I think it is a rather serious lesson for the IAFF which needs to rethink their future position addressing the approval for athletes to participate in international competitions".
On Monday Isinbayeva said she would never accept or forgive the International Olympic Committee's (IOC) decision to uphold her ban from the Rio 2016 Olympic Games.
"What can I say to whoever will be the champion? They will be second by default," Isinbayeva told journalists in Rio de Janeiro.
Isinbayeva was excluded from competing in Rio following the ruling by the International Association of Athletics Federations (IAAF) to ban the entire Russian track and field team from the Games. The decision came after Canadian law professor Richard McLaren's report which supported allegations of a state-backed doping program in Russia, made by the former head of Moscow's anti-doping laboratory, Grigory Rodchenkov.
READ MORE: World champ Isinbayeva & other Russian athletes barred from Olympic Games
On July 21, Court of Arbitration for Sport (CAS) dismissed an appeal brought by 68 Russian track and field athletes, including Isinbayeva, to contest IAAF's ruling. The only athlete who was allowed to compete was long jumper Darya Klishina, who lives and trains outside of Russia.
The 34-year-old Isinbayeva won Olympic gold in 2004 in Athens and in 2008 in Beijing. She also has a bronze medal from the 2012 Olympic Games in London. During her career she set 28 world records.