Barred from competing, Isinbayeva heading to Rio to take part in IOC panel elections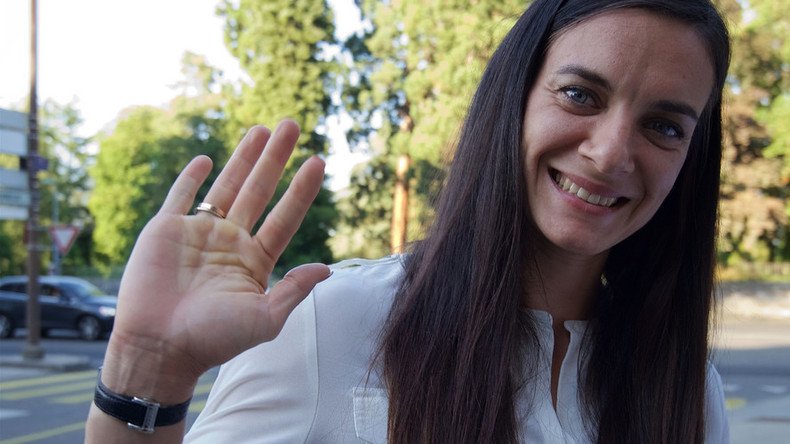 After a last-ditch attempt to appeal the CAS's decision to ban her from the Olympics for unspecified reasons failed, two-time Russian Olympic pole vault champion Yelena Isinbayeva said she is going to Rio to compete for a post on the IOC's athletes' panel.
In a heart-wrenching post on social media, which she said was "probably my final post about my chance to perform in the Olympic Games in Rio," pole vault record holder Isinbayeva told her supporters that her appeal to a Swiss Federal Court to delay enforcement of the Court of Arbitration for Sport (CAS) ruling that upheld a blanket ban on all Russian track and field athletes had been rejected.
"I filed a lawsuit to appeal CAS decision and about an opportunity to take temporary actions. These actions could have allowed me to participate in the Olympic Games but to my great regret the lawsuit was rejected," the 34-year old wrote, referring to a joint appeal she had filed with Sergey Shubenkov, the reigning world champion in 110-meter hurdles.
The athletes, both considered favorites in their respective disciplines, were hoping to exploit a legal clause that would have allowed them to compete.
"We asked for a delay the CAS's decision until the grounds for it are published, but they denied us this opportunity," Shubenkov said, adding that it had been their last resort.
"The last hope to perform at the Olympic Games has disappeared," Isinbayeva lamented in a post, in which she warmly thanked those who had stood by her. "The main victory has already happened – Your hearts are with me," she wrote.
In a previous post, the champion pole vaulter had stressed that no grounds had been given to justify the ban, or indeed even existed, because she was "completely clear and honest," adding that "the only problem due to which I am not allowed to participate in Rio is the fact that for the last 2 years I have been living and training in Russia."
The Russian Olympic Committee also expressed regret about the Swiss court's decision. Its head, Aleksandr Zhukov, had said there was still "a glimmer of hope" before the final verdict was handed down.
Although all her efforts to arrive in Rio as an Olympian ended in vain, Isinbaeva will still be present at the Games as a candidate for the IOC's athletes' commission. Isinbaeva will be heading to Rio on August 14 to take part in the election, which is to take place between July 24 and August 17. All athletes competing in the Games may vote.
The commission consists of 12 athletes, including four that are elected at each Summer and Winter Olympic Games. The winners serve 8-year terms.
READ MORE: Isinbayeva to appeal IAAF ban in European Court of Human Rights
At present, Russia is represented by Olympic swimming champion Alexandr Popov, who is one of the four outgoing members, along with Claudia Bokel, Dae Sung Moon, and Yumilka Ruiz Luaces. Isinbaeva faces tough competition from 23 other candidates in her bid to become a commissioner, but Zhukov is sure that "there are chances" for her to be elected despite "serious competition."
The commission's new members will be announced after the closing of the Games.
The present Olympics were supposed to be a swan song for Isinbaeva, which were to be her fourth and last Olympic Games. In 2015, she came back specifically to prepare for Rio after taking a temporary career break to give birth to her daughter in 2013.
However, on July 21, CAS dismissed an appeal brought by 68 Russian track and field athletes, including Isinabayev, to contest a ruling made by the International Association of Athletics Federations (IAAF) that banned all Russian athletes from Rio Olympics. The lone exception was long jumper Darya Klishina, who is believed to have been cleared because she had been training in the US for the past few years. She will compete under a neutral flag.
You can share this story on social media: