Klishina finishes 9th to leave Russia without Rio track & field medal
Published time: 18 Aug, 2016 12:52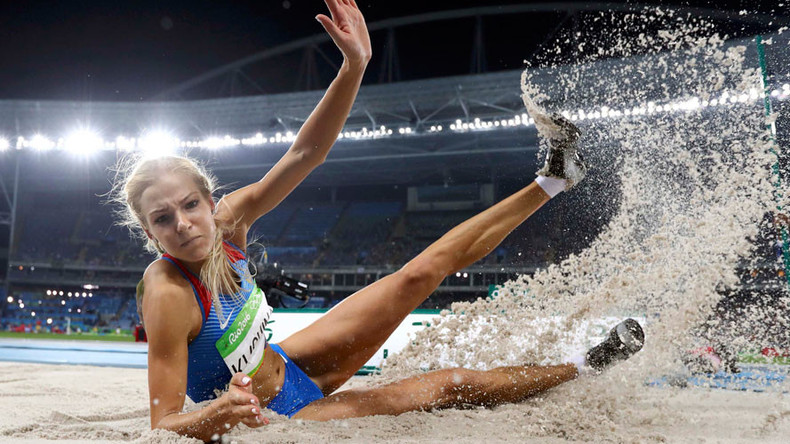 Russia's lone track and field athlete at the Rio 2016 Olympic Games, Darya Klishina, failed in her quest for a medal on Wednesday night, making it the first time the country is without an Olympic athletics medal since its debut at the 1996 Atlanta Games.
Klishina, the only Russian track and field athlete excepted from a ban on competing in the Games imposed in the wake of an alleged state-sponsored doping scandal, finished ninth in the women's long jump final.
The 25-year-old was warmly greeted by the crowd, but her best jump of 6.63 meters fell some way short of her 7.05-meter personal best and she was eliminated after the first round of three attempts.
"I'm sure I can jump farther, but this past week I haven't done too well in training," she said. "It was very hard on me mentally.
"Ten or 15 years ago I would never have imagined my first Olympic Games to be like this. Because of this situation for me, yeah it was tough.
"I don't feel like I had enough practice, and I didn't feel at my best.
"This is not really a good experience, but it's an experience. I'm just trying to be positive and put this in my pocket."
Klishina was allowed to compete in Rio after the International Association of Athletics Federations (IAAF) ruled she had been training in the United States for three years, concurrent to the doping scandal in Russia.
She was tested by credible sources throughout that time and was always found to be clean.
The IAAF reversed that decision last week, but backtracked again on Monday and reinstated Klishina after a successful appeal to the Court of Arbitration for Sport (CAS).
READ MORE: 'I will never forgive IOC for Rio ban' – Olympic pole vault champ Isinbayeva
The USA claimed first and second in the event – Tianna Bartoletta won gold with a personal best leap of 7.17, and 2012 Olympic champion Brittney Reese claimed silver just 2cm behind her teammate. Ivana Spanovic of Serbia took bronze.
"We can't control the IAAF or the doping things. We just have to focus on ourselves," Reese said.
"We all know Darya's a great competitor and in my opinion she deserves to be here," she added.