'I will never forgive IOC for Rio ban' – Olympic pole vault champ Isinbayeva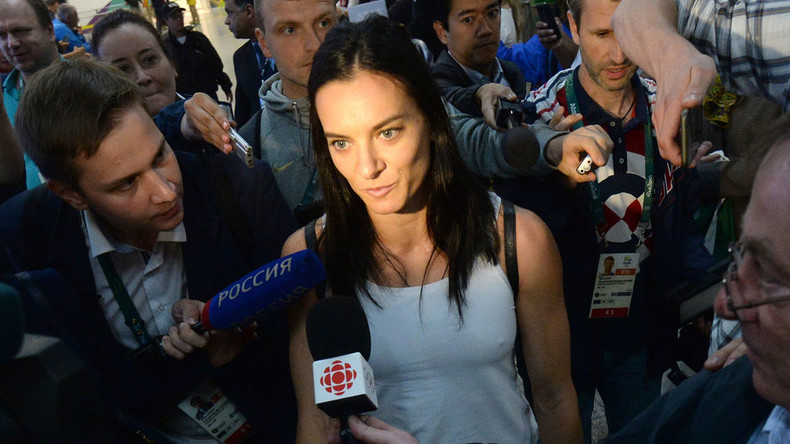 Two-time Olympic pole vault champion Yelena Isinbayeva says she will never accept or forgive the International Olympic Committee's (IOC) decision to uphold her ban from the Rio 2016 Olympic Games.
Current world record holder Isinbayeva says that first place at the Games will forever be in question because of her exclusion.
Isinbayeva recorded the second best jump of the season at the Russian championship in June, with a height of 4.90 meters, second only to American Sandy Morris' 4.93 meters.
"What can I say to whoever will be the champion? They will be second by default," Isinbayeva told journalists in Rio de Janeiro, TASS reported.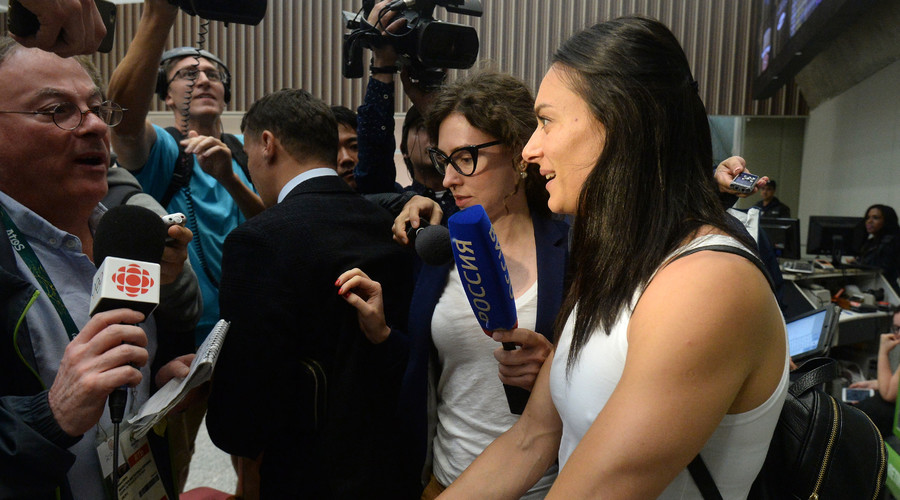 "I want to win the gold medal [at Rio 2016], but it's impossible. Of course I am upset, that I am not here as a competitor, but I need to be here. I never will agree with the fact that they banned me, I will never forgive that."
Isinbayeva, who won Olympic gold in 2004 and defended her title in 2008, has flown to Brazil as a candidate for a position on the International Olympic Committee's athletes' commission. New commission members will be chosen after the conclusion of the Games on August 21.
READ MORE: World champ Isinbayeva & other Russian athletes barred from Olympic Games
Four-time Olympic champion swimmer Aleksandr Popov currently represents Russia in the role. Russian Olympic delegate head Igor Kazikov stated that the Russian team wholly supports Isinbayeva's bid to join the commission.
Isinbayeva was excluded from competing in Rio following the ruling by the International Association of Athletics Federations (IAAF) to ban the entire Russian track and field team from the Games. The decision came after Canadian law professor Richard McLaren's report which supported allegations of a state-backed doping program in Russia, made by the former head of Moscow's anti-doping laboratory, Grigory Rodchenkov.
Isinbayeva subsequently became the figurehead of Russia's bid to overturn the ban, but on July 21 the Court of Arbitration for Sport (CAS) turned down an appeal from the Russian Olympic Committee and 68 Russian track and field athletes were banned from competing.
The sole Russian athlete cleared to compete was Darya Klishina, who lives and trains outside of Russia. However, when the long jumper arrived in Rio, she was swiftly banned by her athletic federation on the basis of allegations of new incriminating evidence against her.
READ MORE: IAAF confirms Rio ban on Russian long jumper Klishina
But after Klishina submitted an appeal, CAS ruled her eligible to compete just one day before her event was due to begin.
"The IAAF decision of 9 July now remains in effect which found that I was eligible because I was available to reliable drug testing around the world almost 90% of the time," Klishina posted on her Facebook account.
"With the appeal now behind me, I can thankfully focus my time and attention on competing tomorrow night and enjoying my Olympic experience, which I have dreamed of since I first began long jumping as a young girl."
READ MORE: Russian long jumper Klishina wins appeal, allowed to compete at Rio Olympics
Isinbayeva is set to make a decision on her glittering sporting career, in which she also won bronze at the London 2012 Games and set 28 world records, at a special press conference on August 19.