IAAF head wishes 'no medal' for US sprinter Gatlin, insists clean Isinbayeva's plight 'Russia fault'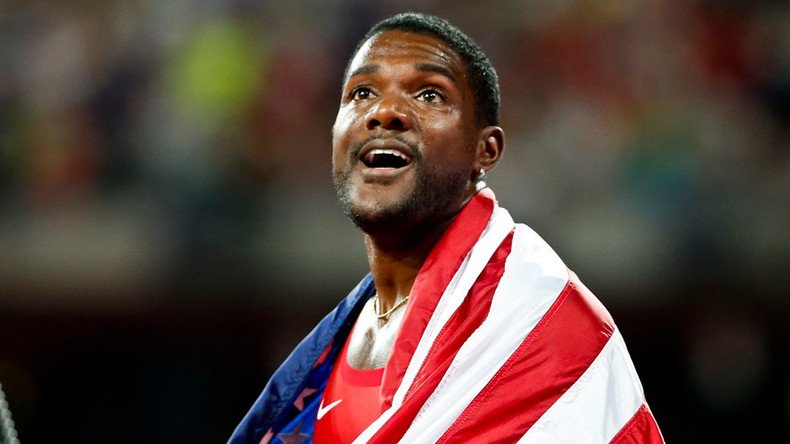 Two-time doping violator Justin Gatlin can compete in the Olympics under current rules, but the US sprinter shouldn't get any medals, IAAF head Sebastian Coe has said, while refusing to compare the situation with that of Russia.
Coe, the president of the International Athletics Federation (IAAF), has been a long-time advocate of banning athletes with doping histories for life. He reiterated this view at a press conference on Wednesday, when he said he would prefer that American sprinter Gatlin be banned for life. The 2004 Olympic gold medalist has tested positive for banned substances twice – in 2001 and 2006 – but has been allowed to continue competing after serving suspensions.
Speaking to journalists ahead of the first Olympic track-and-field event, Coe backed International Olympic Committee (IOC) president Thomas Bach in calling for lifetime bans on athletes that violate doping rules.
The IAAF will be "open" to discussing a zero-tolerance doping policy, he said, stressing that he "would like to see life bans, but that's not been possible," referring to Gatlin's case.
Coe pointed out that, despite being banned for doping twice, Usain Bolt's nemesis is still "eligible to compete." While he conceded that 34-year-old American "should be accorded the same courtesy as any athlete who is within these rules is accorded," he personally will not be wishing the sprinter luck at the Rio Games.
"I do not want him winning a medal in Brazil," Coe told reporters, as cited by Russian daily Rossiyskaya Gazeta (RG).
Having been a track and field champion in the '80's, the UK's Coe has never hidden his disdain for alleged cheaters, saying last year that the very notion of Gatlin beating Bolt makes him feel "queasy."
Gatlin was suspended for two years in 2001 for allegedly taking amphetamines, but the ban was later reduced to one year upon appeal. In 2006, two years after winning an Olympic gold, he failed a test for testosterone and was banned for another four years, only to return to the track in 2010.
Having given the green light to Gatlin and Tyson Gay, another American sprinter who admitted to doping in 2013, while imposing a blanket ban on the entire Russian track-and-field team, including star Russian pole vaulter Yelena Isinbayeva, the IAAF's objectivity has been called into question, argues the president of Russia's Olympic Committee, Alexander Zhukov.
"I want to say it once again, that clean athletes such as Yelena Isinbayeva and Sergey Shubenkov [men's 100 m hurdle reigning world champion], over which anti-doping agencies hold no claims, will not perform at the Olympics, while such athletes as Gatlin and Gay have such a chance," Zhukov said, accusing the IAAF of being inherently biased towards Russian athletes.
However, on Wednesday, Coe claimed that the IAAF was not responsible for clean Russian track-and-field athletes missing out on their chance to compete in Rio.
"We have not banned athletes. This was a cataclysmic failure to oversee and protect those athletes," he said, while putting the blame on the Russian Athletics Federation, which he said had "let them down."
Coe asserted that one of the IAAF's main priorities would be to reinstate the Russian Athletics Federation as a full-fledged member so that Russian athletes could begin to compete normally again at the international level.
Meanwhile, Gatlin unwittingly became part of another media controversy, as 21-time Olympic gold medalist Michael Phelps uploaded a photo in which he was happily posing with the sprinter at the Games. The picture was taken shortly before Phelps made headlines for supporting fellow swimmer Lilly King in snapping at Yulia Efimova after the Russian swimmer won silver in the women's 100-meter breaststroke and King took the gold. Efimova had previously served a 16-month suspension for a doping violation.
"It breaks my heart and I wish somebody would do something about it," Phelps said, lamenting that Efimova was allowed to compete in Rio.
Critics on social media blasted Phelps for demonstrating double standards by seemingly turning a blind eye to the doping issues of his own national team.
Phelps himself served a three-month ban after being photographed smoking marijuana in 2009, which is included on WADA's list of banned substances.
READ MORE: Coe's IAAF presidency victory linked to corrupt official

You can share this story on social media: