Spectacular Rio 2016 Olympics opening nods towards climate change concerns (PHOTOS)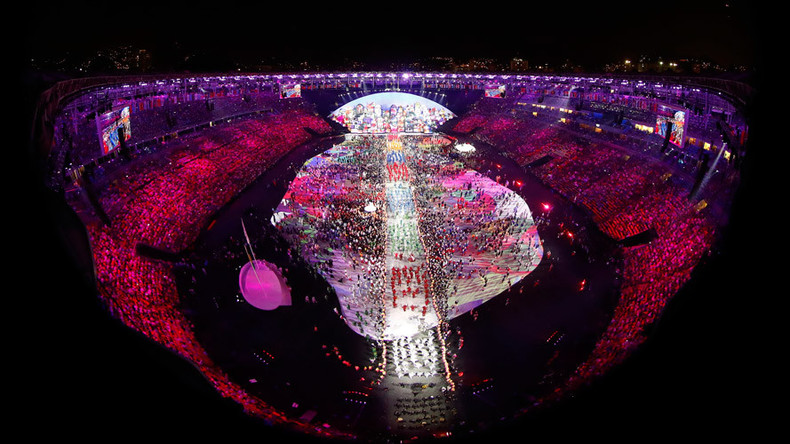 The greatest sporting spectacle in the world is officially underway after a colorful opening ceremony at the Maracana Stadium for the Rio 2016 Olympic Games.
The lead-up to the sporting celebration has been less-than-ideal for host country Brazil, amid a climate of tough social conditions and a strained economy.
READ MORE: Bomb scare brings chaos to Copacabana amid Rio Olympics opening ceremony (PHOTOS)
However, despite the budget for the opening ceremony being significantly less than in London four years ago, the Rio organizers put on an upbeat spectacle full of color, rhythm, dancing and smiling faces.
The showcase began with Samba great Paulinho Da Viola playing the Brazilian national anthem, while eye-catching performances and fireworks were a fitting beginning to what promises to be a captivating Games.
Brazil's most-famous song, Girl from Ipanema, was blasted out as supermodel Gisele Bundchen strutted through the arena.
Football legend Pele was set to play a part in the ceremony but was forced to pull out at the last minute due to medical concerns.
"The muscles in his leg that is being rehabilitated are not sufficiently strong enough," spokesman Pepito Fornos said. "His doctor thought it best that he continues physiotherapy, that he rests and we hope that he will be able to appear at the [Olympic] closing."
There was a serious message among the celebrations, with the issue of global warming and rising seas highlighted.
Brazilian actress Fernanda Montenegro and British screen legend Dame Judi Dench read a classic poem and an image of five green Olympic rings highlighted the environmental concerns which were expressed.
Greece were the first of the 205 competing countries to be lauded by the crowd as they entered the stadium.
Volleyball player Sergey Tetyukhin was the flag-bearer for Russia and led the nation's contingent out into the Maracana to a muted response.
Arguably the biggest cheer of the night came as the Refugee Olympic Team were introduced, while hosts Brazil were the last nation to enter the occasion.
President of the Rio Olympic Organizing Committee Carlos Nuzman and International Olympic Committee president Thomas Bach both spoke with pride and stressed the importance of Olympic values and multiculturalism.
Although Pele was unable to participate, a host of other Brazilian sporting heroes including former tennis player Gustavo Kuerten and retired marathon runner Vanderlei de Lima carried the Olympic torch into the stadium.
The ceremony concluded with more fireworks and a stunning visual show as the Olympic cauldron was lit and risen into the air.
The action will now start happening thick and fast, with 16 gold, silver and bronze medals to be handed out across a host of disciplines on Saturday.