"Cyborg" Santos successfully undergoes seven-hour surgery on horrific head injury (PHOTOS)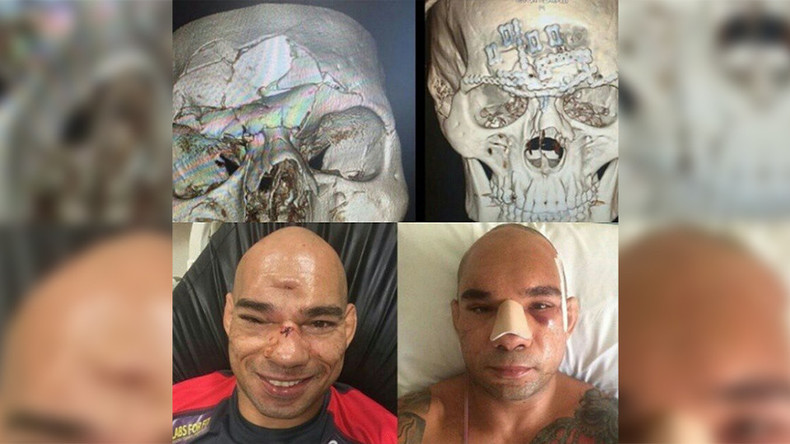 Evangelista "Cyborg" Santos is on the road to recovery after successfully undergoing surgery after horrifically injuring his skull during Bellator 158 in London on July 16.
The Brazilian MMA veteran suffered a dented forehead and cracked skull after being caught by Michael Page's flying knee in the second round of their Bellator 158 fight.
READ MORE: Santos suffers horrifying injury after a knee to head hit from Michael Page
Following the seven-hour long surgery on Wednesday, Santos released a series of pictures and a message that later went viral on Instagram.
"I had surgery yesterday, and thank God everything went fine. It lasted seven hours, and the hospital will give Bellator a full report later today," said Cyborg.
"God guided the doctors in this surgery so everything went well. They didn't tell me anything about timetable for recovery yet.
"I'll be released from hospital today, and then they will tell me how long it will take. But it will be fast. I'll be back soon."
Bellator President Scott Coker has said he will pay all of Santos' medical bills, in addition to giving him his win bonus despite being defeated.
A GoFundMe fundraiser set up his ex-wife, fellow fighter Cristiane Justino, will be donated to a community project to help kids in his native Brazil.
Page, who was criticized for his PokemonGo celebration after the victory, told MMA journalist Ariel Helwani, he'd found it difficult to enjoy his success after the way the fight ended.
"Yeah 100 per cent - it's even harder when the first new feed I got of it my brother actually read out 'fatal injury to Cyborg' so I was s*itting myself man," said Page.
"That's not something you want to be a part of. That's not why we do this.
"Then I found out a bit more and was constantly phoning people trying to find out what was going on.
READ MORE: Bellator's Michael Page celebrates knockout by throwing Pokeball at opponent (VIDEO)
"I found out he was okay but it was still a severe injury.
"It was just very hard. It was a weird moment because you're trying to enjoy what's going on and then you're just sitting there worried about your opponent. It was a weird feeling."
Page also took part in the fundraising campaign for Santos and asked his fans to support his opponent on Twitter.