Santos suffers horrifying injury after a knee to head hit from Michael Page
Published time: 18 Jul, 2016 11:59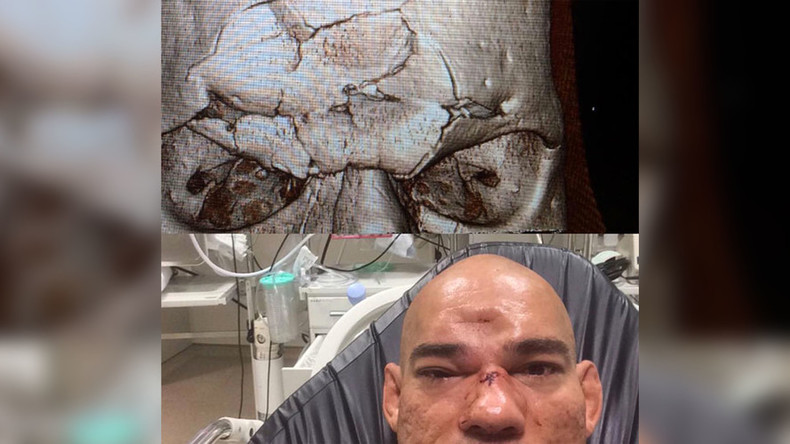 Evangelista 'Cyborg' Santos suffered a fractured skull after a vicious flying knee hit from Michael 'Venom' Page during the second round of their welterweight contest at Bellator 158, this weekend in London.
Shocking pictures of Santos in hospital were posted on social media by the Brazilian's ex-wife Cris - who is an MMA fighter also known as Cyborg.
The 38-year-old was rushed to hospital after the fight.
"I'm under observation now, and will have surgery in the United States," Santos said.
READ MORE: Bellator's Michael Page celebrates knockout by throwing Pokeball at opponent (VIDEO)
"I had a serious injury, but Bellator is giving me all the support I need. I'll be back soon."
Bellator commentator Jimmy Smith posted on Twitter, saying a cut man who had worked as an EMT told him he had "only seen an injury like that in a severe car crash."
A cut man who had worked as an EMT saw Cyborg after and told me he had only seen an injury like that in a severe car crash

— Jimmy Smith (@jimmysmithmma) July 17, 2016
Santos' ex-wife confirmed the fighter had suffered a fractured skull, but said doctors couldn't carry out surgery for fear of worsening the injury.
"Fight fans please say a prayer for my ex-husband Cyborg Santos," Cris wrote.
"Many of you watched him fight on Spike TV this weekend when he suffered this injury while fighting in London."
"Cyborg is still in the hospital in the UK, and they are not sure when he will be able to fly again. He has not had surgery yet and there is worry the brain can continue to swell causing more damage.
"Bellator MMA is supposed to be responsible for all medical procedures needed to fix this injury however, Cyborg is going to be unable to work for some time and we will be putting together a GoFundMe for fight fans wishing to sponsor him and his family at this difficult time.
"Thank you God for your protection, the doctor said this very easily could have been life threatening. Please show your support for the fighters and share!"
Michael Page, who inflicted the injury on Santos, has joined the campaign and in a Twitter post asked his fans to support his opponent with donations.