Brazilian security services complain of poor working conditions ahead of Rio Olympics
Published time: 15 Jul, 2016 14:31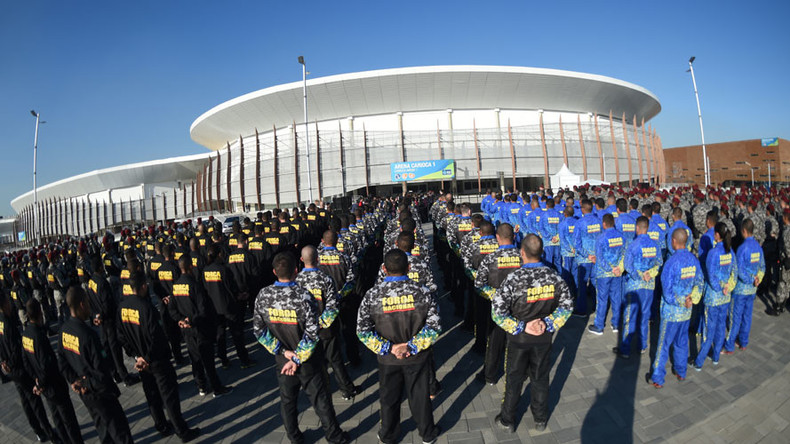 Members of the security services for the upcoming Rio 2016 Olympics Games have complained about unsatisfactory working conditions.
Around 5,000 National Force officers, consisting of police and fire services from states across Brazil tasked with providing security for major events and emergencies, are in Rio to reinforce 80,000 police, soldiers, and other personnel.
READ MORE: Rio state govt declares 'state of calamity' over funding shortage ahead of Olympics
One officer, who refused to be named for fear of punishment by superiors, said many of his colleagues have returned home because of their treatment, as reported by Reuters.
"Morale is rock bottom," the officer said. "I'm having to sleep on the floor, our food arrives late and I still haven't been paid.
"We're not being treated like professionals."
The complaints are the latest in a long line of problems to hit the games, with political scandals, a slumping economy, concerns about the infrastructure, and the Zika virus amongst the issues organizers have had to contend with.
READ MORE: Skydivers fall to their deaths in Olympic rings performance in Brazil
An increase in street violence and petty crime in Rio has caused further concerns, while a French intelligence official's announcement earlier this week that a Brazilian Islamist had been plotting an attack on the French Olympic delegation has been another unwelcome distraction.
The Justice Ministry, which controls the National Force, released a statement saying that pay and board for security forces were guaranteed.
Nearly 10,000 National Force officers were originally expected to travel to Rio, with the Ministry saying they could call up another 4,500 retired or on-leave police officers if needed.
With Brazil facing a recession, many states decided not to release officers from local duties because of budget and security concerns.
The armed forces and a private security company are currently making up for the shortfall.
While the authorities battle to deliver a successful Games, the police have come in for criticism from Amnesty International in recent days.
"Brazilian authorities are not only failing to deliver the promised Olympic legacy of a safe place for all, but are also failing to ensure that law enforcement agents, especially the police, meet international law and standards regarding the use of force and arms," Amnesty warned.