Olympics 2016 rowers to face feces-filled Rio waters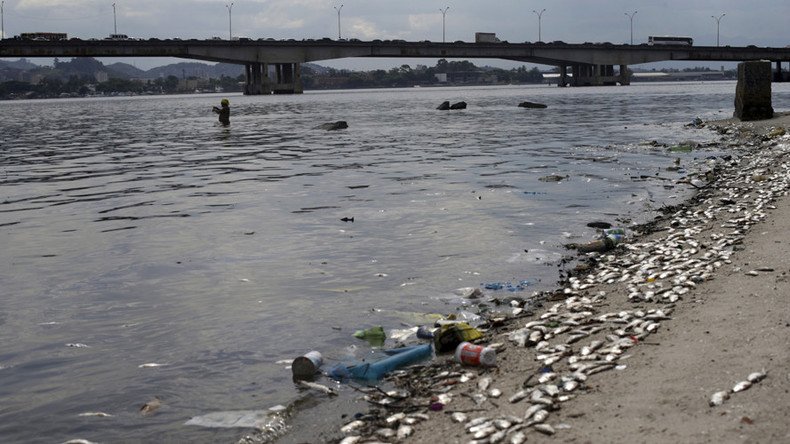 Olympians face the prospect of sailing and swimming through sewage infested waters at the Rio 2016 Games that will get underway next month.
The controversy first reared its ugly head last summer, when a report revealed that raw sewage flows directly into major bodies of water near the venues where the competition will take place, and that viruses linked to human sewage were present at levels up to 1.7 million times higher than that considered alarming in the USA and Europe.
Long-standing worries over the city's water haven't gone away, as Olympic preparations have continued to reveal environmental issues and some question Rio's water is just too dirty to compete in.
Rio only treats a small percentage of its sewage and for many years activists have called on the authorities to provide better sanitation services in the country.
Officials have already admitted that they won't meet their goal of treating 80 percent of the sewage entering the bay, with the most likely figure set at around 65.
This has even led to some speculation about moving the Games' sailing venues further into the ocean, where the water might be cleaner.
There is still hope that emergency measures may be implemented to clean up water venues ahead of the Games, though that is hardly going to leave an Olympic legacy for the population that is most affected by these troubles.
At test events, between 7 and 9 percent of the sailors participating have been getting sick – double the Environmental Protection Agency's maximum illness rate for swimming, which is 3.6 percent.
READ MORE: Budget cuts and raw sewage crippling Rio 2016 preparations
The USA Olympic rowing team has already taken steps to fight the problem, fitting themselves with high-tech training unibody suits knitted with an antimicrobial finish. The suits are supposed to protect against flesh-eating diseases and other pathogens found in the water.
However, it seems even that won't be enough to fight the danger of viruses and bacteria.
Katherine Mena, who researches waterborne pathogens at the UT-Houston School of Public Health, told Wired, "They will literally be immersing themselves in very high levels of pathogens. The infection risk will be pretty high."
Some athletes are already planning to arrive early to build up their immunity, while others are going to wait until as close to the competition as possible to enter the water.
The USA rowing team will set up hand-washing stations for rowers for when they leave the water in order to help mitigate the pollution.
Their special bacteria-killing suit can't destroy certain bacteria quickly enough, however, and they are almost certain to have water splashes onto their face and into their eyes and mouth while competing.
In Rodrigo de Freitas, where the rowers will compete, athletes in test events poured bleach onto their water bottles and rinsed with antibacterial mouthwash between events.
Health concerns surrounding the Zika virus have already led to calls for the World Health Organization to push for Rio Games to be postponed or relocated.
You can share this story on social media: