Euro 2016 semi-final: France 2-0 Germany (LIVE UPDATES)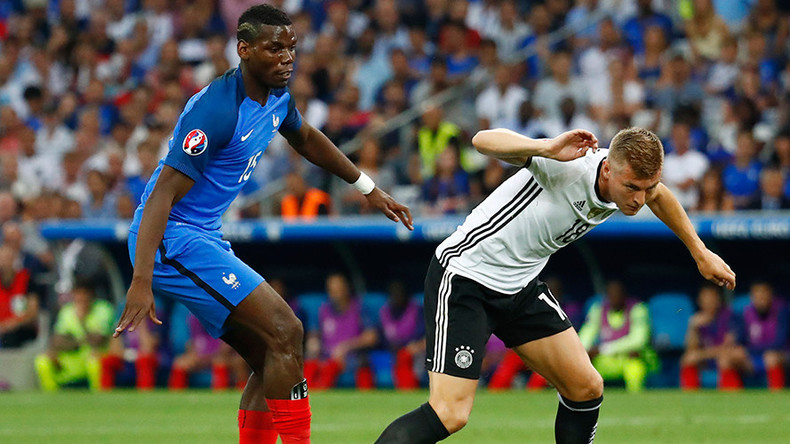 France has beaten Germany 2-0 in their Euro 2016 semi-final and will face Portugal in the final on Sunday in Paris.
07 July 2016

20:54 GMT

France reaches the final of Euro 2016.

20:52 GMT

Stunning save from Lloris in the French goal as he is at full-stretch to save a header.

20:52 GMT

The French fans are waving their tricolors - not long left now.

20:51 GMT

Germany launches the ball into the box again, it's cleared but Cabaye commits a foul seconds after coming on - Ozil plays the free-kick in but it's cleared.

20:50 GMT

Two-goal hero Antoine Griezmann comes off to be replaced by Yohan Cabaye.

20:49 GMT

The referee has signaled 4 minutes of added time - France is almost there.

20:48 GMT

(90+ mins)

Into added time now as Germany press, but Muller aims a wayward ball into the box and no one is there to threaten.

Surely too much for Germany to do now.

20:46 GMT

Just under five minutes left, France looking comfortable as the crowd cheers every pass.

20:45 GMT

(86 mins)

Griezmann breaks for France as he eyes a hat-trick, but he shoots straight at Neuer in the German goal.

20:44 GMT

(85 mins)

Again Germany presses but cannot penetrate the banks of French defenders. They have lacked any real creativity, while France has been incisive and fast with their forward play.