Mutilated body discovered near Rio Olympics beach volleyball venue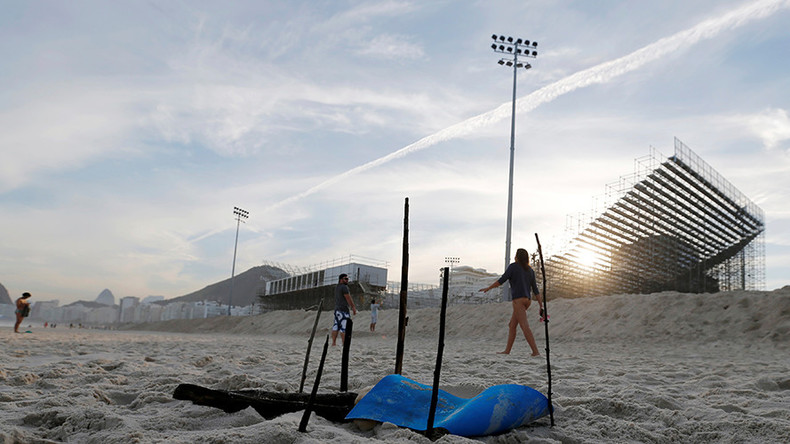 Parts of a mutilated body have been discovered on the sands of Copacabana beach in Rio de Janeiro, just meters away from where beach volleyball athletes will be competing at this summer's Olympic Games.
The discovery is the latest in a series of high profile setbacks for the 2016 Olympics, as host-nation Brazil grapples with unfinished infrastructure, an economy in recession, fears of rising crime, major political scandals and concerns over the Zika virus.
READ MORE: World no. 1 golfer Jason Day withdraws from Rio Olympics over Zika virus fears
Although there was no official comment on the discovery of the body parts, a policeman at the scene confirmed its existence to Reuters. It is currently unclear what circumstances may have led to the mutilated body and whether it was recently deposited in the area or washed up on the shore.
Earlier this week in Rio, police gathered at the city's international airport to protest against delayed salary payments, greeting arrivals with a sign that read: "Welcome to Hell."
Read more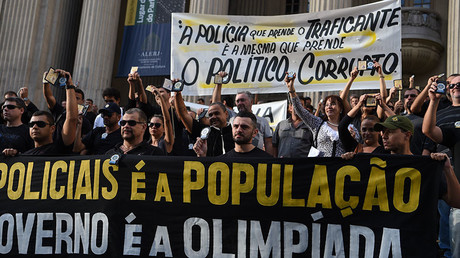 The Olympics start August 5 and were initially intended to show off an economic boom as the Games come to South America for the first time. However, these hopes have fizzled out as Brazil faces its worst recession since the 1930s, largely due to the drop in oil prices, and is also in the midst of a major political scandal.
These factors have sapped much of the critical political initiative required to follow through on an ambitious project such as the Games.
The Brazilian state has missed crucial debt payments in recent months and has been unable to make salary payments for everyone from public health workers to the police force. It is also in a race against time to complete a new subway line and other infrastructure that had been promised for the Games.
Earlier this month, Rio's acting governor, Francisco Dornelles, declared a financial emergency in the state.
He has publicly announced his fears that the Rio Games could be "a big failure" if financing does not come through. However, Brazil's federal government has offered assurances that funding will arrive – and Rio is now awaiting $892 million emergency funding to be able to finance different public services including event security.