Rio police protest unpaid wages as Olympics security collapse looms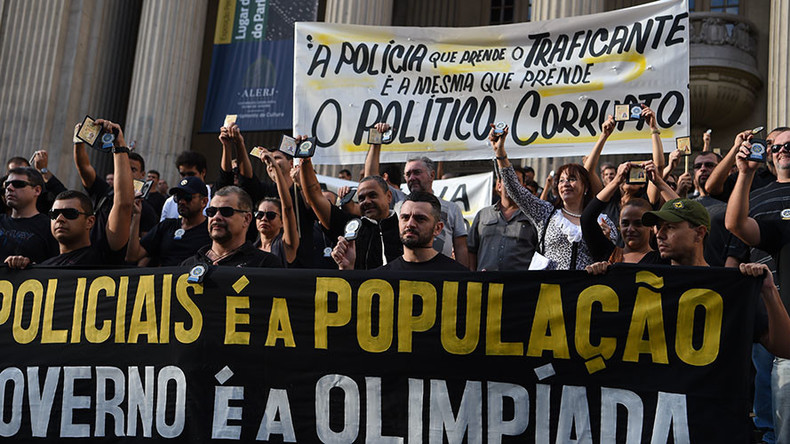 Rio de Janeiro police rallied against the non-payment wages and even a lack of basic supplies such as toilet paper on Monday. The city, still awaiting a bailout by Brazil's central government, is to host the Olympics in August, yet its governor says, "It could be a big failure."
Some 300 officers took to the streets of Brazil's second-largest city on Monday to demand their salaries be paid by the government in full and to express anger over unbearable environment at work where they experience shortfall of such basics as water, ink or toilet paper.
One police officer at the rally, which had gathered next to the city's state assembly, told AFP that he had received only half his pay last month, adding that he hasn't been paid his overtime "for five months either."
Apart from constant underpayment, police are plagued by the lack of necessary equipment, such as helicopters, fuel for cars as well as basic hygiene and office supplies.
"At the stations we don't have paper or ink for the printers, there's no one to come in to clean and some stations don't have a water supply anymore so the toilets are not functioning," said Andre, an officer entrusted with providing security at the upcoming Olympics as a member of an elite police unit.
"Members of the public bring toilet paper to us," he said.
The urgent need for adequate equipment that would allow police to fulfill their primary duty to protect the citizens from violent criminals was explicitly shown by the attack on the city`s largest hospital located close to the stadium, where the opening ceremony will take place. Some 20 armed gang members attempted to "rescue" their drug boss stranded there, killing one person and injuring two more.
The police said they were unable to call for immediate backup as they do not have a helicopter at their disposal.
READ MORE:Brazil offers debt relief to state governments

The unprecedented number of deadly offenses committed against officers serves as yet another vivid illustration of the police's inability to tackle the existing threats. So far this year 52 officers have lost their lives, compared to 85 in the whole of last year.
As sports fans all over the world are about to start arriving in Rio for the Olympics, they may receive a very lukewarm welcome, to say at least.
On Monday, the group of protestors spread a banner at the city's airport, strongly advising visitors not to come to Brazil.
"Welcome to hell. Police and firefighters don`t get paid, whoever comes to Rio de Janeiro will not be safe," the banner read.
The warning signs continue even after tourists leave the airport.
"Welcome, we don`t have hospitals!" the inscription on the bridge reads.
Speaking of the difficult situation in which the city has found itself in the wake of declaring a "state of public calamity" earlier this month due to its massive budget deficit, Interim Governor Francisco Dornelles told O Globo daily that Rio hasn`t yet received 2.9 billion Brazilian real ($860 million) it had requested from the federal authorities.
The financial and political turmoil pose a direct threat to the security of the Olympic Games, he said, as cited by AP.
"I'm optimistic about the games, but I have to show reality," he said, adding that "if some steps aren't taken, [the Olympics] could be a big failure."
Dornelles also highlighted key problems for Rio ahead of the Olympics that are of primary importance to its success. He pointed out to the unfinished metro line that would connect remote areas of Rio with Olympic facilities, saying that "without security and without the metro there will be difficulties" and described the state of health care as "calamitous."
The Summer Olympics in Brazil are set to kick off on August 5.
You can share this story on social media: