Euro 2016: Irish eyes smiling after fans receive prestigious French award
Republic of Ireland fans will be given a special award for their excellent behavior at the UEFA European Championships in France.
French sports newspaper L'Equipe says the mayor of Paris will honor Irish fans for their sportsmanship with the Medal of the City of Paris.

Mayor Anne Hidalgo said the supporters distinguished themselves by the party atmosphere they created from the start of Euro 2016.
The mayor has sent a letter to Irish President Michael D Higgins to confirm his country's fans will be honored.
Irish forward Robbie Keane praised the fans after his team were defeated 2-1 by France in the last 16 of the tournament on Sunday.
Read more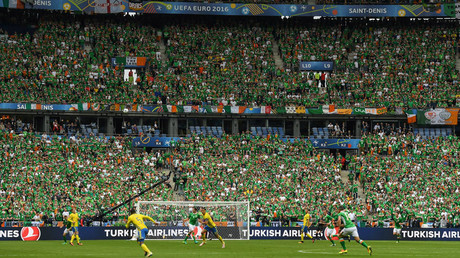 "Thank you from the bottom of my heart and all the players' hearts, thanks for supporting us and the journey is only beginning with these young players," said Keane.
Manager Martin O'Neill also backed the efforts of the Irish fans.

"The supporters have been sensational and I have to say the players were unbelievable," he said.

"They have been magnificent, absolutely magnificent."
Irish supporters created a fantastic atmosphere around Paris, Bordeaux, Lille and Lyon during the tournament and were congratulated by the French public for their exemplary behavior.
Football Association of Ireland CEO John Delaney said he was proud of both the fans and the team.

"There is nothing more emotional and fantastic than when you face the tri-color abroad and we did that on the playing fields of France and our supporters – the best ambassadors this country will ever have."
READ MORE: Euro 2016 football championship in France LIVE UPDATES
The Medal of the City of Paris – the 'Grand Vermeil' – is regarded as the city's most prestigious honor and has been awarded to a wide variety of people including tennis star Rafael Nadal, Palestinian Authority President Mahmoud Abbas, and Nobel Prize in literature winner Toni Morrison.