Ireland's 'Green Army' fans offer welcome antidote to Euro 2016 football violence (VIDEOS)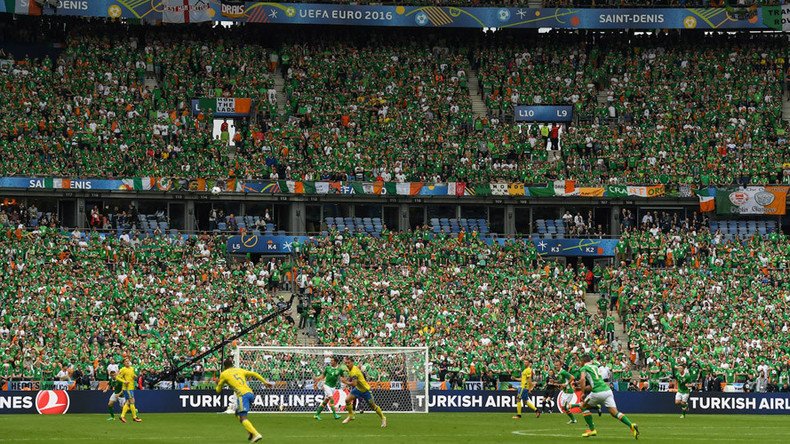 Ireland may have been disappointed to draw their opening Euro 2016 group match against Sweden, but football fans from the "Emerald Isle" can be proud of moving ahead in the game of hearts and minds in France.
Four years ago at Euro 2012, Irish fans put in a performance from the stands that belied their team's dismal display on the field in Poland.
The full voice of the "Green Army" and their exemplary behavior during the tournament saw UEFA present a special fans' award to the Football Association of Ireland, after the nation had watched its side crash out with no points.
This time around, the Ireland team is already giving a better account of themselves, while their fans also cement their high ranking supporter status, bringing the famed Irish "craic" to the competition.
Social media has erupted with videos and images of the Irish supporters' feel good antics and group singalongs, providing a welcome contrast to the ugly scenes of football violence witnessed elsewhere at the start of the championship.
Random acts of kindness by the "Green Army" include changing the tire on a stricken elderly French couple's car.
In the video, one fan jokingly explains what he considers to be the difference between English and Irish supporters.
As rival "fans" were seen pelting each other and the French police with missiles, the complete opposite was witnessed when Ireland supporters in Bordeaux were filmed cleaning up an area of the city.
Meanwhile, a cyclist was given a helping hand past a large crowd, with the small island's supporters picking him up and carrying him past a human bottleneck in the port city.
Opposition team supporters seem to be getting in on the fun, too, with Swedish fans videoed performing a harmless, hilarious reenactment of a bull-fight with a dancing Irishman.
That said, if you're a Parisian, the Irish are probably only fun if you aren't trying to get around them in a hurry – their exuberant celebrations do involve a spot of traffic disruption.
You can share this story on social media: