Anthony Joshua knocks out Dominic Breazeale in round 7 to retain world title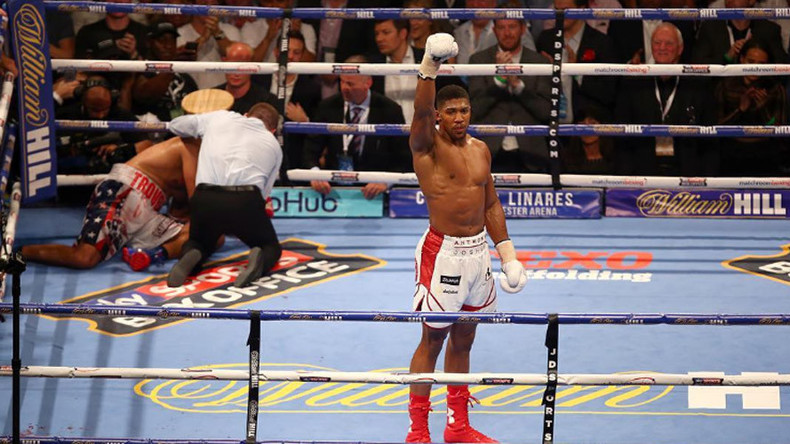 Anthony Joshua defended his IBF heavyweight title against Dominic Breazeale on Saturday in London, going beyond the third round for the second time in his 17-fight career.
Twenty-six-year-old Joshua, who claimed the belt from Charles Martin back in April, weighed in at 109.8kg, while Breazeale tipped the scales at 115.2kg. However, 30-year-old Breazeale's bigger weight and height also meant he was considerably slower than the defending champion. The difference showed from round one, with Breazeale unable to match Joshua's quick feet and hands. He was limited to a few counter-attacking opportunities.
One such chance in the sixth round led to a bloody nose for Joshua, but by then Breazeale was almost done - his face bruised, his left eye cut and closed. Breazeale's strategy from the start seemed to have been to absorb as much punishment as possible and look for that one knockout blow to capitalize on his power. However, that hit never came and by the seventh round his body gave way.
Hits to the head knocked him down but he got back up quickly, as if game to continue, but Joshua, who had been unable to land a clean knockout blow so far, closed out the bout with a flurry of fast punches that finally ended the American's resistance.
The British boxer has knocked out all 17 of his professional opponents, an impressive CV that will translate into bigger fights in America, thanks to Joshua's multi-fight deal with Showtime that meant Saturday's night event at O2 Arena was also broadcast live in the US.
Read more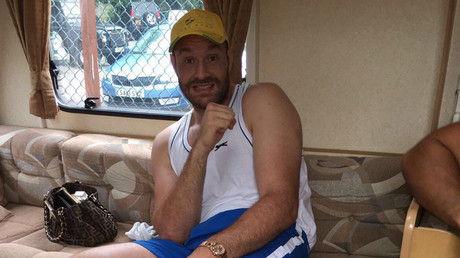 Tyson Fury, who withdrew from his heavyweight title rematch against Wladimir Klitschko on Friday, had predicted a quick Joshua victory.
"Breazeale is unbeaten, he's tall and heavy, but that's as far as it goes," he said.
"He's no more talented than Mariusz Wach and the rest of them that come over here and he'll get busted up.
"This one might be a big old boy, but if you want a chance of beating Joshua, you have to be able to box and I am not sure he can.
"Joshua is inexperienced but don't forget he's an Olympic gold medalist, so he wins this. There's only one thing I am expecting and that's another Joshua knockout."
There had been talk of a Joshua-Fury all-British title unification bout, but with Fury's injury and postponement of his match with Klitschko, those plans have been shelved until at least next year. Joshua, eager to fight, will be looking for tougher and bigger names. The next on his list may be Joseph Parker, the 24-year-old New Zealander, who holds the WBO Oriental and OPBF regional heavyweight titles and is unbeaten 19-0.