Too much on show? Nike asks tennis stars to return revealing Wimbledon dresses (PHOTOS)
Published time: 23 Jun, 2016 15:18
Edited time: 9 Aug, 2018 09:29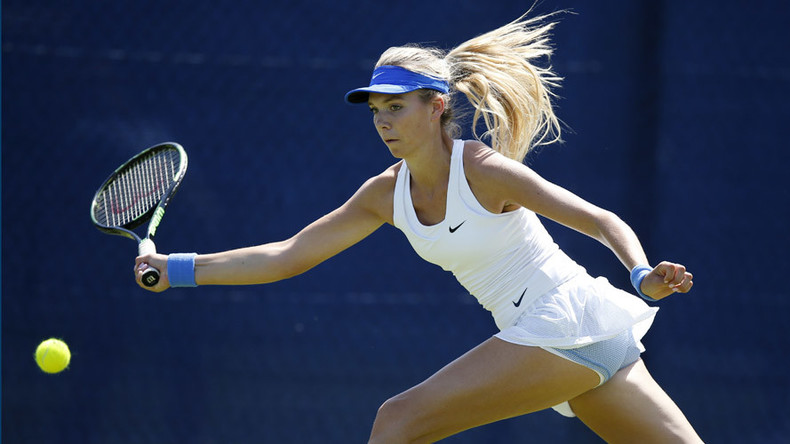 Nike has recalled tennis dresses that were to be used by female players at Wimbledon following complaints that the outfits revealed too much flesh.
With complaints received from female players regarding the dresses flying up above the waistline and hindering their play, Nike has been left with no option but to make alterations ahead of the tournament.
Although the designs were passed by the organizers at the All-England Club, the furor surrounding the dresses has resulted in Nike tennis stars becoming creative in altering the outfits themselves.
Recently, youngster Katie Boulter wore a belt on court during play to keep her dress in place, whilst Lucie Hradecka wore knee-length leggings underneath the dress to make herself feel more comfortable during her match.
READ MORE: Wimbledon: Djokovic bids for 3rd consecutive crown amid tight security
An email from Nike's marketing team sent to the players in question, and as seen by the Daily Telegraph, said: "We need to make a small change to your dresses per Wimbledon rules. Could you please bring them by the Nike Wimbledon House."
In thick, underlined type followed the message: "this is VERY IMPORTANT."
With Wimbledon just days away this is an unwanted distraction for some of tennis's top stars such as Eugenie Bouchard and Great Britain's Laura Robson, but the matter should be in hand for the tournament's opening day on June 27.
It is believed defending Wimbledon champion Serena Williams' attire for the tournament will not be affected, with the American having a specially-made outfit for the tournament.
This is not the first time Nike has been involved in controversy over its sportswear, with the company having to calm fears in 2000 that its British football shirts were laced with a toxic chemical.
READ MORE: 'I hope they don't make condoms': Swiss star jokes as 4 Puma jerseys rip during Euro 2016 game
A high number of shirts had to be recalled across Europe due to the fact they contained a chemical called TBT, which prevents the smell of excessive sweating, and could cause huge damage to humans.
Although the shirts were taken off the shelves in the early millennium, Nike released a statement days after the revelation that wearers were in no danger of harm from the chemical in question.