Stolen Olympic gold medal returned after being found by 6yo girl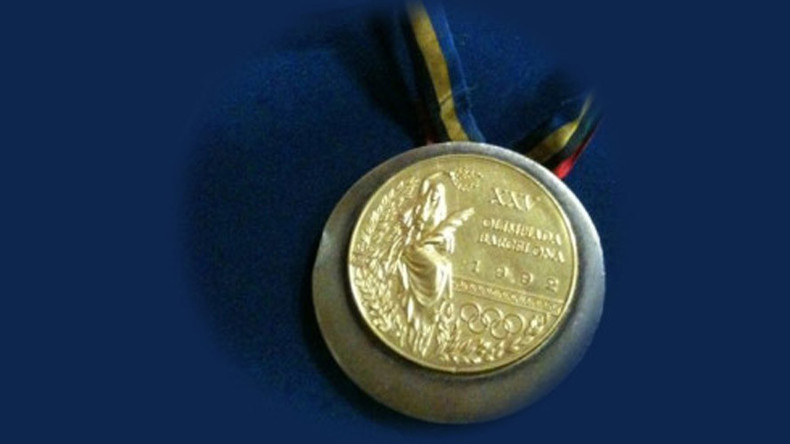 An Olympic gold medal stolen two weeks ago has been returned to its owner after being found by a 6-year-old girl.
Olympic Slalom C-2 canoeing champion Joe Jacobi, from the US, said he received an email through a website created to help recover the medal he won at Barcelona in 1992.
The girl spotted the medal, which had been stolen from a restaurant parking lot, in a wooded area in Atlanta while walking with her family on Saturday.
"Everything that has happened over the last two weeks, there has been so much goodness and kindness, and what happened today is just another extension of what we experienced over the last two weeks," Jacobi said, as reported by the Times Free Press.
The medal – for whose return Jacobi had offered a $500 reward – was in a backpack that thieves took from his vehicle while he was dining with his family in an Atlanta restaurant.
Although the medal was missing its base when found by the girl, Jacobi said he was delighted to have his prized possession returned.
"The 1992 Olympic medal has an upper disc that's attached to a bigger, metallic base and the upper disc is kind of the distinguishing characteristic of the Olympic medal," he added.
"It was virtually the only part of the medal that was marked. So we got that back, but we didn't get the base that's attached to the ribbon.
"But we got a big part of it back today."
There have been many examples of people losing memorabilia before being reunited with the item, but perhaps the most famous instance was the theft of the Jules Rimet Trophy, awarded to the winner of the football World Cup, ahead of the 1966 tournament in England.
David Corbett and his dog Pickles were walking in southeast London, when Pickles sniffed a parcel that was lying under the hedge of Corbett's house.
READ MORE: Real Madrid star Marcelo gives away Champions League medal on Facebook
Corbett opened the package and immediately recognized the trophy, which he then handed in to police, who subsequently returned it to the Football Association.
Pickles was awarded the silver medal of the National Canine Defence League, while Corbett collected over $7,000 as a reward.