Fedor Emelianenko beats Maldonado in dramatic comeback fight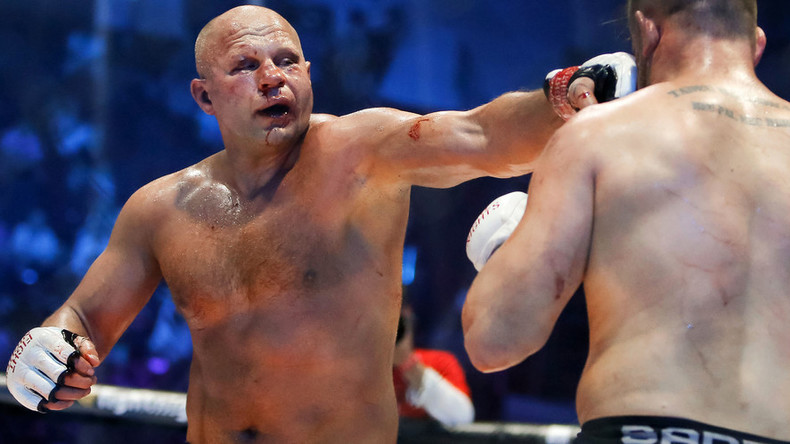 Russia's legendary heavyweight MMA fighter, Fedor Emelianenko, has beaten Brazil's Fabio Maldonado in St. Petersburg in The Last Emperor's second fight after a three-year break from sports.
Emelianenko, 39, won on a majority decision after three grueling rounds in which the bout ebbed and flowed between the fighters.
The Russian came under a barrage of punches when he was taken to the mat in the opening round but somehow managed to hold on.
He came out for the second round still looking dazed and with his face swollen, but slowly began to find his range and exert pressure on the 36-year-old Brazilian.
Emelianenko then unleashed a sustained attack of his own, backed by a vociferous home crowd.
He had Maldonado under pressure again as the third round progressed and continued to work away, but failed to find a way to finish the bout as both fighters tired.
In the end, Emelianenko was awarded a majority decision, much to the delight of the home support, although some have questioned whether the Russian did enough to claim the bout after Maldonado's first round dominance.
The result takes the Russian heavyweight's record to 36-4-0.
The fight was Emelianenko's first to be shown on UFC Fight Pass, the organization's digital network that has partnered with fight promotions across the globe – and is sure to have been hugely entertaining for fans.
'The Last Emperor' could now finally be set for a much-anticipated switch to the UFC, having told leading MMA journalist Ariel Helwani ahead of the fight that: "[The] possibility does exist [of moving to the UFC].
"I always wanted to fight for UFC and I would fight for UFC, but at this moment we're looking at the deal and the deal has to satisfy both parties – them and my organization.
"Until there's no friction, until we are 100 percent in terms of seeing eye-to-eye, we are all basically in limbo."
Emelianenko was hard on himself following the fight, describing it as the "one of the worst" in his career, but added that he wanted to "recover and move forward", Spb.Sovsport.ru quotes.
"It so happened that I missed two punches. Not the best fight for me", he conceded, as cited by Match TV. However, Emelianenko said he could not disappoint his Russian fans and endured, maintaining the fighting spirit.
"I knew that I had to stand up, continue the fight and to win. I knew that my team, my compatriots were looking at me", he said.
"We will draw conclusions. But in terms of functional prep everything was great"
The Russian returned to MMA at the end of 2015 following a three-year hiatus, defeating Indian kickboxing champion Jaideep Singh with a first-round submission.
He had been out of the sport since retiring in 2012, but said he felt in good shape against Singh.