Is Fedor Emelianenko poised for UFC switch?
Published time: 14 Jun, 2016 12:44
Edited time: 17 Aug, 2018 12:16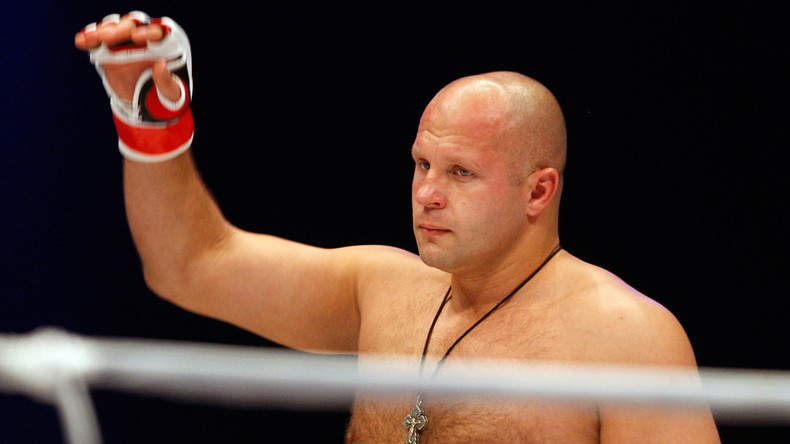 MMA legend Fedor 'The Last Emperor' Emelianenko could finally be set to join the UFC.
The 39-year-old Russian faces UFC veteran Fabio Maldonado in St. Petersburg on Friday with the fight being aired on UFC Fight Pass.
He becomes a free agent after the bout and has confirmed he has received an offer from the UFC.
Emelianenko told leading MMA journalist Ariel Helwani: "That possibility does exist. I always wanted to fight for UFC and I would fight for UFC, but at this moment we're looking at the deal and the deal has to satisfy both parties – them and my organization.
"Until there's no friction, until we are 100 percent in terms of seeing eye-to-eye, we are all basically in limbo."
'The Last Emperor' returned to MMA with a bang at the end of 2015 after defeating Indian kickboxing champion Jaideep Singh with a first-round submission.
READ MORE: 'Anti-Russian agenda could be behind meldonium doping scandals' - Fedor Emelianenko
He had been out of the sport since retiring in 2012, but said he felt in good shape against Singh.
"I did get that feeling," Emelianenko said. "I feel like I am back. A fighter is measured by the last fight. I'm looking forward to illustrate I am back in my usual form."
The UFC and Emelianenko have come close to agreeing terms on a number of previous occasions, but a deal has never been finalized.
Brock Lesnar's return to MMA at UFC 200 has sparked rumors of a potential match between the WWE star and Emelianenko – something he says he'd be open to.
"If somebody were to make that proposal, we'll definitely look at it closely," he said.
READ MORE: 'Juiced to the gills': Brock Lesnar accused of doping by Mark Hunt ahead of UFC 200
Elsewhere, Miesha Tate has targeted a second rematch with Ronda Rousey and is certain she'll emerge victorious.
Rousey hasn't fought since losing to Holly Holm at UFC 193 last November and the current bantamweight champion thinks she is no longer focused on the sport.
"Do I think she'll come back the same?" Tate said. "Something tells me no. Something tells me that she won't and I think it's just my take on the interviews that I've seen her do.
"I feel like she's somewhere else other than fighting. I don't feel like this is her No. 1 drive or source anymore.
"I know that I am the strongest that I've ever been. And here I stand at the best moment of my career, the most confident that I've ever been, the best version of Miesha Tate and she's at the worst.
"She's at the lowest point of her career. I think she's second-guessing whether she even wants to be in it."
Tate will make the first defense of her title against Amanda Nunes at UFC 200 on July 9 in Las Vegas.