'Juiced to the gills': Brock Lesnar accused of doping by Mark Hunt ahead of UFC 200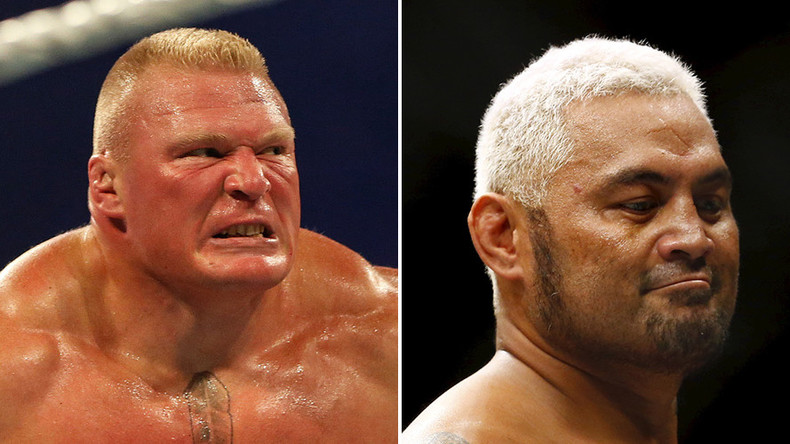 Australian fighter Mark Hunt has questioned the UFC's decision to waive Brock Lesnar's drug test ahead of their UFC 200 showdown.
Lesnar's opponent at next month's UFC 200 event has launched a scathing attack on the WWE superstar after he was granted an exemption from drug testing.
Hunt is furious over the UFC's decision, claiming that the 38-year-old from South Dakota, USA, is "juiced to the gills."
Last week, Lesnar came out of his four-and-a-half year mixed martial arts hiatus to agree to co-headline the UFC's landmark 200th event with Jon Jones versus Daniel Cormier II on Saturday July 9 at the T-Mobile Arena in Las Vegas, Nevada.
Usually four months' notice is required for drug testing under the UFC's anti-doping policy rules, governed by the United States Anti-Doping Agency (USADA).
However, the rules do allow an exemption to be given at the UFC's discretion "in exceptional circumstances or where the strict application of that rule would be manifestly unfair to an athlete."
This has prompted an aggressive response from Lesnar's opponent, with Mark Hunt saying:
"I don't think that's fair. I think it's load of bulls***, I think it's rubbish," Hunt told UFC FIGHT WEEK on Fox Sports in an exclusive interview.
Mark Hunt on Brock Lesnar drug testing: "I don't think that's fair... it's load of bulls***, I think it's rubbish."https://t.co/Yg78fGWSPn

— Chamatkar Sandhu (@SandhuMMA) June 9, 2016
"I don't think anyone should be exempt from testing. If they're trying to clean the sport up - mixed martial arts - this is a bad way to do it. I don't care who you are. It's ridiculous.
"I don't think it's a great move. I think he's juiced to the gills - and I still think I'm going to knock him out. So I don't think that's correct. I don't think he should be allowed to get a four-month exemption otherwise everyone else should. Otherwise I should start juicing.
"How are you going to clean the sport up doing that s***? It won't happen. I don't think it's fair.
"I've already voiced my opinion to [UFC boss] Dana [White] about it but apparently he [Lesnar] has been getting tested but he's probably been off a couple of cycles anyway."
The UFC released a statement to media organizations stating that Lesnar's lengthy spell away from the UFC and that he only signed a deal to fight at UFC 200 on Friday contributed to the decision to waive the four-month notice rule.
Read more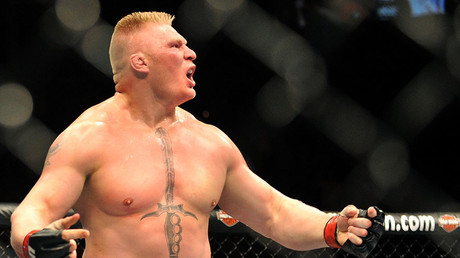 Lesnar has not stepped into the UFC cage since December 2011, when he lost a title eliminator against Alistair Overeem with a first-round TKO.
Hunt, 42, holds an MMA record of 12-10-1, and heads into UFC 200 following back-to-back victories over Antonio Silva and Frank Mir with a TKO and KO respectively, both in the first round.
The grappler is still signed with World Wrestling Entertainment (WWE) and is expected to return to the squared circle before the end of the year. The sports entertainment company could face criticism off the back of the UFC's decision to waive the wrestler's drug test as the WWE itself has been scrutinized over the years when it comes to its athletes and drugs.