UFC 200: Brock Lesnar returns to UFC, opponent announced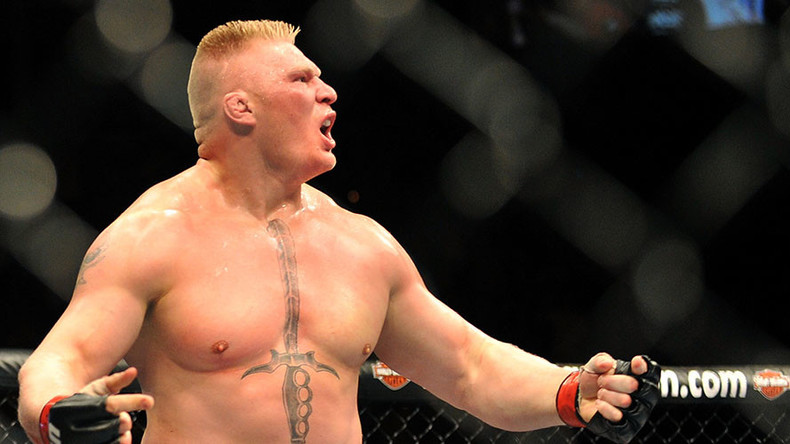 Former UFC heavyweight champion Brock Lesnar looks set to break his own pay-per-view record, after the promotion confirmed he would be fighting at next month's UFC 200 event against Mark Hunt.
The WWE star's voice screamed: "Can you see me now?" at the end of a promotional video for the Las Vegas blockbuster, before he appeared on screen firing a punch at the camera.
Lesnar is one of the biggest stars in UFC history, with the 1.6 million buys for his title fight against Frank Mir at UFC 100 in 2009 still the highest number in the promotion's history.
He lost his title to Cain Velasquez in 2010, before ending his UFC career with a defeat against Alistair Overeem 14 months later. Lesnar was diagnosed with diverticulitis and sidelined for almost a year with his condition, before losing to both Velasquez and Overeem, and he feels that his illness, rather than his opponents, got the better of him.
"...at the top of my career, I wasn't at the top of my game, so I felt like I was cheated out of my career in the UFC," Lesnar said. "In my mind and in my heart, I never lost to a foe. I never lost to my opponent. I lost to diverticulitis. That was my opponent that beat me.
"Other people may have other thoughts and say other things about the way I performed. My performance was due to the illness. I'm sitting here today, I feel 1,000 percent. I wouldn't get in the Octagon if I didn't."
Lesnar returned to professional wrestling in 2012, going on to re-establish himself as one of the WWE's biggest stars. His return to the UFC is a one-off deal, instigated by Lesnar himself, with both parties eager to do a deal based on the enormous cross-promotional possibilities and Lesnar's reputation as one of the industry's biggest and most marketable stars.
"You just go in and sit down and have a big-boy conversation with the boss, [WWE Owner and CEO] Vince McMahon," Lesnar said. "It's simple. It's billionaire business, and I'm big business, so why the hell wouldn't anybody want Brock Lensar involved?
"I'm a crossover athlete. I'm a modern-day Bo Jackson, people, and I'm excited about it. I'm enthusiastic. I couldn't be more excited and honored to have the opportunity that both companies have faith in Brock Lensar to allow him to step back into the Octagon."
Regarding the money involved, Lesnar was his typical candid self:
"I can't disclose. There's lots of zeroes behind it," Lesnar said.
"I'm not here to brag about it. I'm here to state that, listen, I'm a prizefighter and everybody's making money. At the end of the day, this is going to be an exciting show for me. I'm honored to be a part of it. It's humbling to sit here and to actually announce to the world. I feel like a weight has been lifted off my shoulders because I've been carrying this around, and, yeah, it's for real."
Read more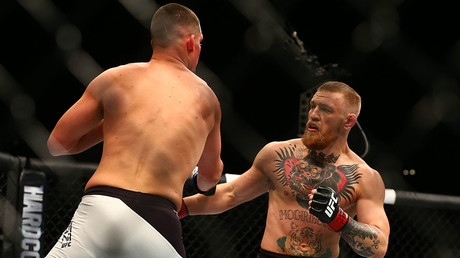 UFC 200 takes place July 9 at Las Vegas' T-Mobile Arena. With McGregor/Diaz pulled from the card, Lesnar will add the necessary stardust to a marquee event for UFC.
The card is headlined by a light heavyweight title unification bout between Jon Jones and Daniel Cormier. Bantamweight champion Miesha Tate also defends her title against Amanda Nunes on the card, while Jose Aldo and Frankie Edgar will scrap it out for the interim featherweight championship.
Despite the titles, all eyes will be on Lesnar and how he copes with a return to the Octagon. If he wins, it's big business for both WWE and UFC, with UFC expected to cooperate further with WWE in crossover opportunities with potentially Rousey or even McGregor taking part at next year's Wrestlemania.