Euro 2016: Russia to face Slovakia as threat of violence overshadows tournament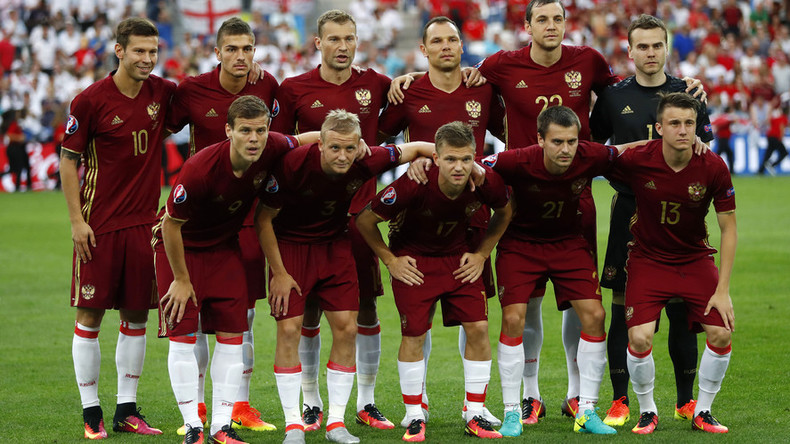 Russia face Slovakia in Lille in their second Euro 2016 Group B match on Wednesday, with the threat of fan violence still hanging over the tournament.
The build-up to Saturday's 1-1 draw between Russia and England was marred by clashes between rival fans around Marseille.
There was more unrest after the game as Russian fans took advantage of poor security in the stadium to enter a sector holding England supporters.
The English Football Association and the Russian Football Union have been warned by UEFA that their teams face expulsion from the tournament if there is a repeat of the violence, with Russia also being handed a €150,000 fine.
READ MORE: Euro 2016: Russia handed €150k fine, may be disqualified if more fan violence
However, it is feared there will be more trouble in Lille this week.
With Lens unable to cope with the thousands of England fans traveling for Thursday's game against Wales, supporters have been advised to stay in nearby Lille – where Russia face Slovakia 24 hours beforehand.
English FA chairman Greg Dyke has called on the governing body to make sure there is properly coordinated policing in Lens and Lille to prevent further problems.
Read more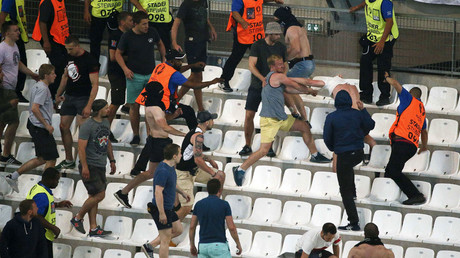 In a letter to UEFA he said: "We understand there is to be an alcohol ban across the host cities and we would welcome this, particularly in Lille on Wednesday where many English fans have been asked to gather ahead of Thursday's match against Wales in Lens.
"We have, following consultation with the authorities, advised our supporters without tickets for the match in Lens to congregate there, and whilst we will be working hard to positively influence their behaviour we have serious concerns around the security arrangements for the city in the next few days.
"These concerns are heightened with the knowledge that Russia will play in Lille on Wednesday afternoon.
"We know that UK Police authorities are stepping up their support on the ground, but we would urge you to bring the policing authorities in both Lille and Lens together as soon as possible to ensure there is a coordinated and effective plan in place.
"Again we are ready to play our part in these discussions.
"We will work over the next three days jointly with the Football Association of Wales to ensure we have an effective communications strategy to our supporters."
On Tuesday, it was reported that a group of Russian fans was being deported from France after being stopped by French police while traveling to Lille.
READ MORE: Deportation coming? Bus with 50 Russian Euro 2016 fans 'blocked, searched' by French police
On the pitch, Russia will hope to build on their opening result with victory against Slovakia.
Vasili Berezutski's injury time header against England secured a vital point for the Russians, while Slovakia opened their campaign with a 2-1 defeat against Wales.
Midfielder Denis Glushakov is back in full training, giving Leonid Slutsky a full squad of outfield players to choose from.
Striker Artem Dzyuba is hoping for a strong performance on Wednesday.
"Our defense was well organized but not everything worked in attack – we were a bit disjointed," Dzyuba told UEFA.com.
"A lot of balls got kicked out of play. But it was the first match and a difficult one. At times we held on to the ball really well.
"I think if we add 20-30 percent in attack, there will be more goals and we'll create more chances."
READ MORE: Russia draws against England in Euro 2016 opener
This will be the first time the teams have met in the European Championship, although they have played twice previously in qualifying for the 2012 tournament, each side securing a 1-0 away victory.
Slovakia have not lost consecutive games since October 2013 and must maintain that record to give themselves a realistic chance of reaching the last 16.
The Russians have won three and drawn three of their last eight games against Slovakia and will be confident of improving that record on Wednesday.