Deportation coming? Bus with 50 Russian Euro 2016 fans 'blocked, searched' by French police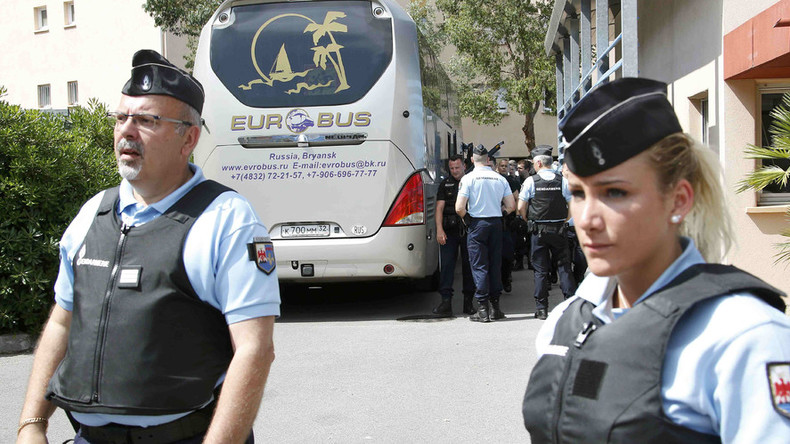 A bus with some 50 Russian fans has been blocked on its way to Lille, where the Russia-Slovakia Euro 2016 match will take place, and searched by around 100 French police officers, the fans said, adding that they fear deportation.
Euro 2016: Russia handed €150k fine, may be disqualified if more fan violence

The concerns were voiced by Aleksandr Shprygin, head of the Russian Supporters Union.
"We've been told that [all fans] in the bus will be deported. We are waiting for the [Russian] consul, but the French police threaten to use force," Shprygin told TASS on Tuesday. Lille is scheduled to host the Russia-Slovakia match on Wednesday.
"It's a disgrace, why are they deporting an official fan group who has nothing to do with Marseille violence? We believe they are just making up for their failures," he added.
On Tuesday, French police searched the bus for alleged drugs and weapons, asking the fans to get out of their vehicle. When the supporters refused and demanded to speak with the Russian consul, the police officers threatened to use force, Shprygin claimed on his Twitter.
In the end, police reportedly agreed to wait for the consul to arrive. Speaking to RIA Novosti by phone, Shprygin alleged that riot police, armed with assault rifles and Tasers, sought three times to storm the bus. Later, he said on Twitter that two people on the bus felt unwell and ambulances had to be summoned.
Read more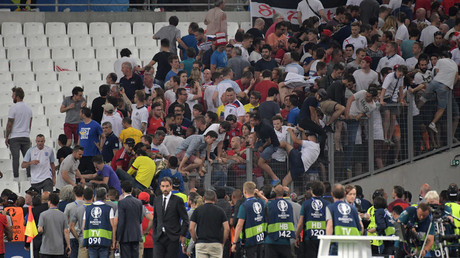 All 50 fans will be deported from France at their own expense, Shprygin tweeted later in the day. However, this has not yet been confirmed by authorities.
Russian Sports Minister Vitaly Mutko said he believes the situation will be resolved, and added he is in touch with the head of the Russian Fans Union. He also stressed that the fans should comply with French laws: "France's authorities have their own requirements that need to be respected, and then everything will be fine."
French Interior Minister Bernard Cazeneuve described the police actions in the situation with the bus carrying Russian football fans as a "police operation to arrest" some "hooligans" aimed at preventing clashes similar to those that took place in Marseille.
"As we speak there is a police operation to arrest some 40 of them [hooligans] that may have taken part in these acts in Marseille so that they can no longer do it in the next games with the violence we have seen," Cazeneuve told French lawmakers, as reported by Reuters.
He also said that those detained were "violent Russian supporters," adding that "there were photos and videos" of fans taking part in the clashes in Marseille.
"They will be stopped," Cazeneuve said, adding that the fans could expect deportation if sentenced.
Also on Tuesday, authorities were also checking the identities of 29 fans at a hotel near Marseille, southern France, to see if they were on a list of supporters "considered a risk." Some of the fans are to be taken to a holding center at the border, AFP reports. This group also reportedly intended to travel to Lille.
A total of 43 fans were detained and placed in custody, according to authorities.
The operation follows Saturday violence in Marseille, when Russian fans broke into the English zone at Stade Velodrome, sparking a fistfight. The stadium clashes then poured onto the streets of the city. More than 30 people were injured.