McGregor v Mayweather a 'publicity stunt,' says Diaz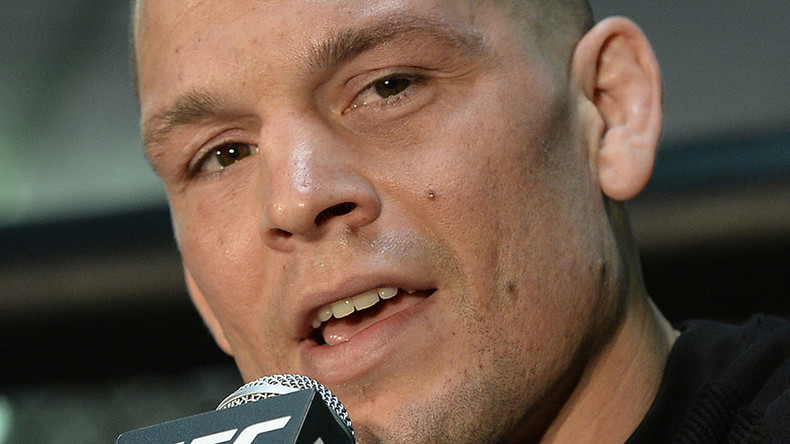 Nate Diaz says talk of a clash between Conor McGregor and Floyd Mayweather is a big publicity stunt and a smokescreen for the direction both fighters will end up taking.
Diaz, who sensationally beat McGregor at UFC 196 last December, confirmed he has held talks with the UFC about a potential rematch with the Irishman at UFC 202.
"It's great for both of them – boxing followers will start following Conor, MMA followers are going to start following Floyd," said Diaz.
"They're all benefiting, and no one is losing, so they're going to keep the ball rolling. It's rumors somebody is letting out, because they're both benefitting off each other's fanbases and they're both building off of it.
"They don't care if it happens or not, they're both winning right now from the talk even happening. That's the truth about what's really going. The media is working their way and they're loving it. They're probably having dinner together every night."
Diaz reportedly met UFC President Dana White last week to discuss the possible rematch against McGregor, but the pair failed to agree terms.
Read more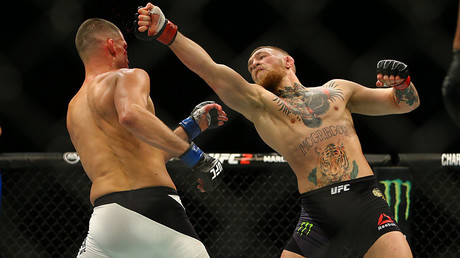 The American said negotiations were still ongoing and the two parties were still hopeful of sealing a deal.
"Nothing is done, but I don't think any damage was done," he added.
"We're still on good terms. I've been texting with Dana. He's real cool. I'm sure he wasn't the happiest at the moment, and I was thinking, 'Wow, I might have p***** him off.'
"I just said what I had to say. I told him at the end, 'I don't want to p*** anyone off. I'm just trying to get mine, because it's time to get mine.'
"It seems like this is a pretty big deal, so can I be compensated for this?
"They weren't the happiest about that, but they're not talking to me about it right now, so we're working on it and we're going to get it figured out."
Diaz also believes the recent stand-off between the UFC and McGregor over the Irishman's refusal to carry out promotional activities is a problem of their own making.
"This motherf***** is on top of the world because the UFC wanted his ass in, and the whole Irish fanbase, and they gave him some push," Diaz said.
"They did that for him and got a little ahead of themselves, and probably didn't realize that. But I did.
"All I'm saying is, he's getting pushed. They created that monster. They did that to him. My s*** is straight realness."
Elsewhere, Frankie Edgar has shrugged off criticism from Jose Aldo ahead of their rematch at UFC 200 on July 9.
Aldo told reporters in Rio de Janeiro that Edgar has stagnated since their last fight back in 2013.
Edgar constantly maintains he won the fight, his first ever at featherweight.
Despite Edgar finishing strongly as Aldo faded late, the Brazilian was awarded a unanimous decision, allowing him to retain his title.
"You're seeing it across the board in all weight classes," Edgar said. "Guys are getting more vocal.
"They're just seeing what it's done for Conor, so they're trying to kind of make their voice heard. I think that's what Aldo is doing.
"Arguably, you could say I haven't lost a round since me and Aldo fought. He's just been in some either pretty boring fights or wars since our fight.
"So, I think I'm the one who looks like he's evolved more than Aldo has. So yeah, I don't know. I think he's just talking the fight up."
Aldo hasn't fought since losing to McGregor at UFC 194 and Edgar thinks the defeat will be playing on his opponent's mind at UFC 200.
READ MORE: McGregor stuns Aldo in 13 seconds to claim UFC crown
"Everybody bounces back differently, looks at it differently," Edgar added.
"But no doubt about it, it's got to mess with your psyche, especially when you're as dominant as he has been for the last 10 years, and then, boom, one punch. Literally one punch.
"Thirteen seconds. And against a guy who gloats. Just, the worst guy who could do that to you, did it. That's just got to mess with your head. So, we'll see.
"Whether by grinding him for five rounds or putting him away in the first, I want to show everyone that I came prepared and I'm the best fighter in the world."