UFC working hard to schedule McGregor-Diaz, Holm-Cyborg in 2016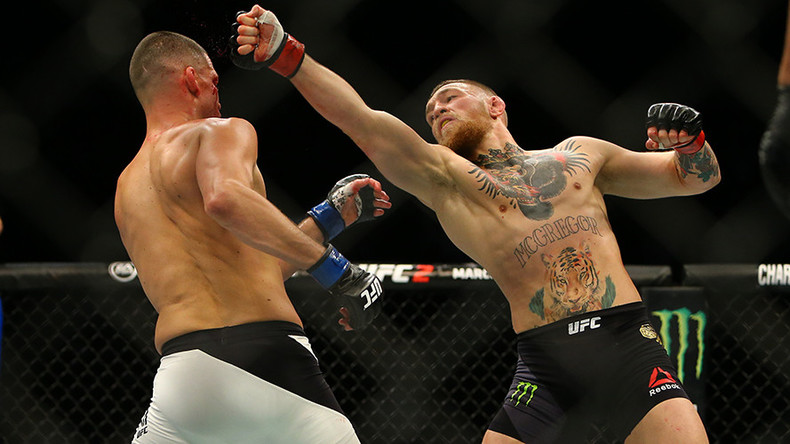 A number of blockbuster UFC bouts look set to happen in 2016 but have not been confirmed as yet, with the organization's chiefs meeting with both Nate Diaz and Conor McGregor this week.
Outspoken Irishman McGregor was surprisingly beaten by the American at UFC 196, with a rematch between the volatile pair initially arranged for UFC 200.
READ MORE: Nate Diaz overpowers Conor McGregor in a shocking win at UFC 196
However, when McGregor failed to show up for promotional events ahead of the event, the Irish fighter was pulled from the clash and Diaz now has no opponent lined up.
Since then UFC President Dana White and CEO Lorenzo Fertitta have met with the pair individually to scope out a date and time for the highly anticipated rematch.
Firstly, White met with McGregor for dinner in Beverly Hills, with the meeting said to have gone well and a potential return to action for the Irishman at UFC 202.
It was the first time that White and McGregor had seen each other since the outspoken slugger stunned the world by claiming he was retiring from the sport.
Following on from this, White and Fertitta visited Diaz in his home town of Stockton, California in a bid to tee up the rematch with McGregor.
However, it is believed that there was hostility at the meeting and White stormed out of the restaurant in frustration.
Despite being captured in a photo on Diaz's Instragram, the UFC President admitted that his trip to the west coast was not successful.
"Obviously I'm not going to disclose details of the deal, but let's just say my trip to Stockton didn't go well," he said.
Despite no agreement being reached on this occasion, it seems like only a matter of time before Diaz and McGregor are pitted against each other in a blockbuster clash.
Meanwhile, popular female fighter Holly Holm has admitted that she turned down a bout with Cris Cyborg at UFC 198, but only because she has her heart set on a title rematch with champion Miesha Tate.
It has been a rollercoaster last six months for Holm, who shot into the public consciousness by shocking the world and afflicting Ronda Rousey's first-ever career defeat back in November.
The 34-year-old claimed the bantamweight title in the process of recording the upset, but subsequently lost her crown to Tate at UFC 196 in March.
With Holm eyeing up potential opponents after the defeat, Cyborg was touted as a possible contender in a mouth-watering clash at UFC 198.
Despite Holm turning down the clash with the South American, The Preacher's Daughter has admitted that it was because she yearned for another chance to fight Tate.
"I was just kind of holding on to see if I could get the rematch for the belt," Holm said.
"I'm not against fighting Cyborg. It just didn't seem like the right time.
"But that's definitely something that could be an option for the future. I'm actually really happy for her victory. I really like Cyborg. I think she's a great gal."