UFC 199: Weidman out injured, Michael Bisping called in to fight Luke Rockhold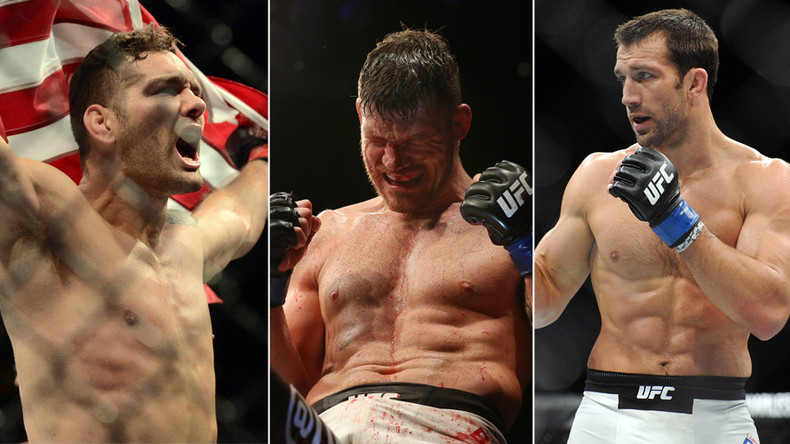 Challenger Chris Weidman has pulled out of UFC 199 where he was due to fight middleweight champion Luke Rockhold, with Michael Bisping stepping in as a replacement at short notice.
Weidman confirmed the news that he would not compete on Facebook, with a large extrusion herniation in his neck that requires surgery the reason.
UFC President Dana White admitted he felt for the fighter after he was forced to step away from the bout.
"It's always devastating when you are getting ready for a guy for that long and two weeks before the event he has to pull out," he said.
"It's always scary when you are doing surgery on your neck and your back. Hopefully the surgery is a success so we can see him come back shortly."
Bisping is raring to step into the ring on June 4 in Weidman's place, with the replacement given the chance to seek out revenge.
The 37-year-old has clashed with the champion before, with Rockhold submitting his next opponent in the second round of their encounter back in November 2014.
READ MORE: Cyborg ready for UFC debut, Rousey plans still unknown
The pair have already restarted their animosity on social media, with a back-and-forth on Twitter catching the eye.
White added fuel to the fire by admitting that the pair are not fans of each other.
"Obviously [Rockhold] is bummed out, but he's very excited to fight Bisping," he said.
"They don't like each other. As soon as the fight fell out with Weidman yesterday, those two started going back and forth on social media."
Bisping believes in destiny. I believe in hard work, dedication and earning  your future. I'm gonna give you something special June 4th.

— Luke Rockhold (@LukeRockhold) May 19, 2016
Bisping defeated Anderson Silva in his last UFC bout back in February, while Rockhold's last fight came back in December 2015 when he defeated Weidman for the title.
READ MORE: UFC boss White denies company is for sale
The clash is set to take place on June 4 in Las Vegas, with a lot of verbal animosity expected between the fighters in the build-up.