Cyborg ready for UFC debut, Rousey plans still unknown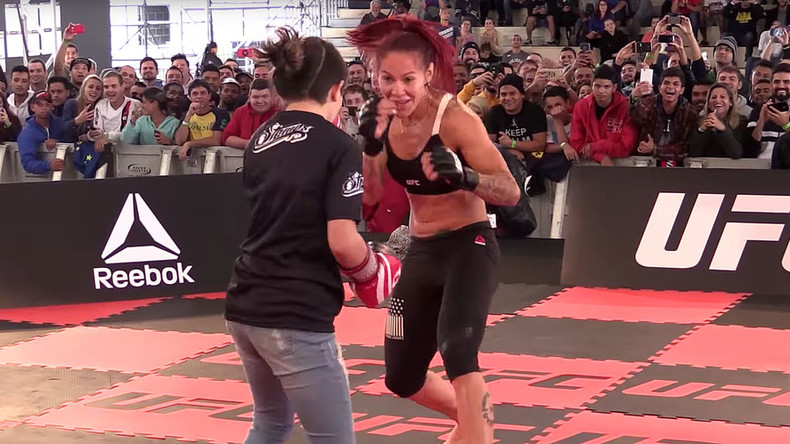 Cris "Cyborg" Justino warmed up for her UFC debut this weekend with an impromptu sparring session with a young fan in Curitiba, Brazil.
Justino put on an impressive display with the fan at the open workouts ahead of her much-anticipated 140-pound catchweight bout against Leslie Smith at UFC 198.
The Invicta FC featherweight champion is an exciting addition to the UFC ranks, with the likes of former bantamweight champions Holly Holm and Ronda Rousey touted as possible future opponents.
Despite saying she would be happy to take her on, Holm has already rejected an offer to face Justino and will meet Valentina Shevchenko in the main event of UFC on FOX 20 instead.
Justino said: "People say what they want in interviews, but when they get a contract they say other things.
"I think it's business. She wants to fight for the belt first. She's coming off a loss and wants to get a win back. I guess that's her team's plan."
The Brazilian fighter has previously sparred with Smith and is confident she will win her first UFC contest.
"Leslie is a good fighter with a big heart," she added. "When I heard I was going to fight her I knew it would be good, maybe the fight of the night. She won't run away, and it's going to be a great fight."
While Justino and Holm know their immediate paths, Rousey's future plans in the UFC are less certain.
UFC 200 in July was originally suggested as a likely date for her comeback, but that was subsequently pushed back to the promotion's debut event in Madison Square Garden in November.
Read more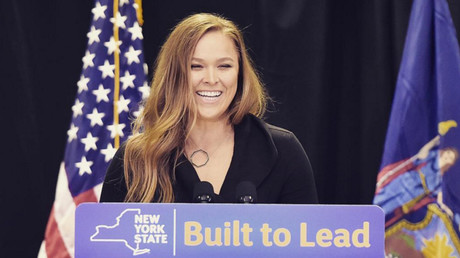 However, Rousey has yet to confirm when she plans to return, and UFC President Dana White is happy to leave the decision in her hands.
"I would really like her to fight this year," he said. "I hope she does."
"That's up to Ronda – Ronda is coming to come out and let us know when she's going to fight again. That's up to her."
Rousey recently signed a three-movie deal with the Lifetime network and White has no problem with her pursuing other interests.
"If you look at, from when I decided to bring fighters into the UFC, no fighter has worked harder than Ronda Rousey over the last three years, other than probably Conor McGregor. So, she deserves the time off," said White.
Elsewhere, McGregor's status with the company continues to cause debate, with UFC color commentator Joe Rogan the latest to wade into the row.
McGregor was pulled from UFC 200 last month, after refusing to fly to Las Vegas to take part in promotional activities.
READ MORE: Mayweather comeback: $100mn to fight Pacquiao, Garcia or McGregor?
Rogan says the Irish fighter knew what he was taking on when he made the decision.
"Conor is not dumb," Rogan said. "They had a pissing contest and Conor lost. It's really that simple.
"He just decided that he was going to put his foot down and tell the UFC he wasn't doing any media obligations and the UFC said, 'Well, that's not how it works.'
"It's unfortunate, because I would have loved to see McGregor at UFC 200, but it doesn't matter.
"UFC 200 is gonna be stacked and whatever fight card they would up eventually doing this Conor McGregor versus Nate Diaz fight, it's gonna be big, too. It doesn't matter."