New York comeback on the cards for Rousey at UFC 205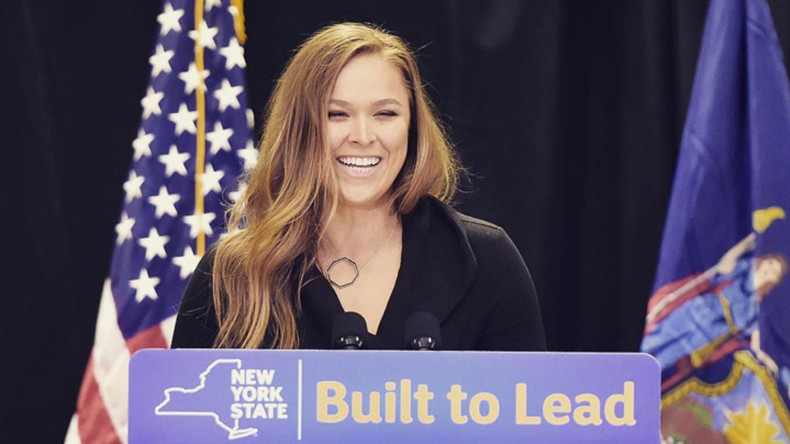 Ronda Rousey could be set to make her comeback at Madison Square Garden (MSG) after the UFC was given the green light to stage fights in New York City.
The promotion announced that UFC 205 would take place at MSG on November 12 soon after Governor Andrew Cuomo signed off on a bill legalizing MMA in the state of New York.
Cuomo said, "I'm very excited about the November match here at The Garden.
"I'm not a promoter, but boy, if Ronda Rousey fought here in November, that would be a hell of an event. I would call in to reserve my seat right now."
Rousey, who attended the law signing event, added: "I want a tie to a historical place like this and I want to be remembered in a positive way.
"I would love to have the opportunity to fight here because this is another time I feel like I earned the right to fight here because I fought for it.
"It wasn't just something that fell on my plate – I was part of the process and I think that's what a lot of the New York fighters will be feeling when they finally get to fight in their hometown."
UFC president Dana White has previously said that Rousey is guaranteed a title shot for her comeback bout.
Current bantamweight champion Miesha Tate, who Rousey has already defeated twice, is a likely opponent, although UFC newcomer Cristiane 'Cyborg' Justino was quick to call the former champion out on Twitter when the New York event was confirmed.
UFC CEO Lorenzo Fertitta confirmed Rousey could be part of a stellar card.
"It's certainly a possibility," he said. "Nothing has been determined yet.
"We'll kind of see what happens. I can tell you that whatever card we do bring, it will be massive.
"It'll be a big card with our biggest names."
It's taken the UFC around 20 years to have MMA legalized in New York and Fertitta admitted he was relieved to be able to secure MSG for their first event.
"We've been working on November 12 now for about a month or two," he said.
"Getting a date at MSG is no easy deal. I mean, this is one of the busiest arenas in the world, obviously.
"So we were able to get that date, we said do it, lock it in, and that's what we're shooting for."
A featherweight title fight between Conor McGregor and New Jersey's Frankie Edgar has already been floated as one probable match-up for UFC 205, while New Yorker Jon Jones would be another huge attraction for the event.
Long Island-based fighter Aljamain Sterling believes the UFC should use its New York debut to showcase the city's talent.
"This is a historic moment for sure, and I'm excited about it," he said.
"My whole thing is I can't wait to inspire the next young fighters from my hometown. I got a bunch of kids who would like the opportunity just to be able to dabble in a sport like this.
"It's going to be a great opportunity not just for me but for everybody, great opportunities across the board.
"You know what I think they should do? It should be like a New York against the world kind of thing. I think that would be awesome. I think that would be the dopest thing ever."
Fertitta admitted Sterling's idea was something the UFC would be seriously considering.
"We're going to give deference to the New York fighters," he said.
"We obviously want to put guys like Chris Weidman and the rest of the guys who can help support us, whether it's (Ryan) LaFlare or (Dennis) Bermudez and all these guys from Long Island and upstate New York.
"So we'll see whether the New York crowd really gets behind them."