Mayweather comeback: $100mn to fight Pacquiao, Garcia or McGregor?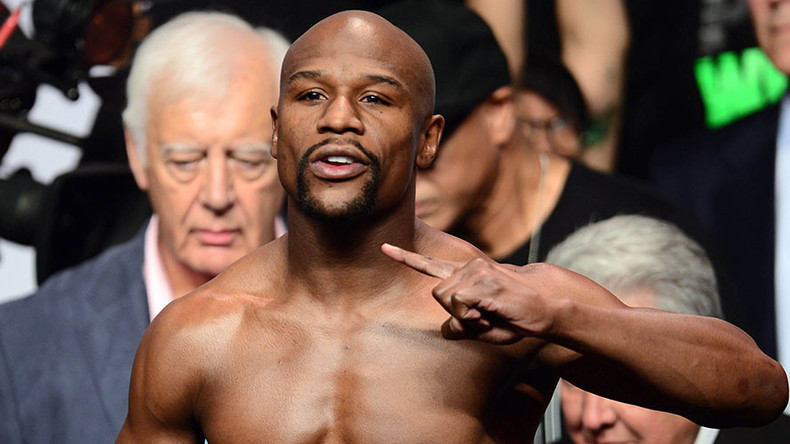 Talk of a possible fight between Floyd Mayweather Jr and Conor McGregor continues to gather the pace and it's the "Money Man" himself who's fueling the fire.
During the build-up to Amir Khan's ill-fated attempt to dethrone middleweight champion Saul "Canelo" Alvarez in Las Vegas, Mayweather admitted it was "possible" he may come out of retirement to take on an "MMA fighter."
"It's possible, it's possible," he said. "There was a name that was shot at me. But the rumors that y'all have been hearing are the rumors I started.
"It may not be a rumor. Keep your fingers crossed. It may be a boxer versus an MMA fighter. So we just don't know."
The 39-year-old Mayweather, who retired last September with a perfect 49-0 record, has previously said he would only come back for a fight that would pay him at least $100 million.
He didn't specifically mention the Irishman but his comments sparked a response from McGregor on social media, as he tweeted a mock promotional poster for a fight between the pair.
McGregor's future with the UFC remains uncertain, with the current featherweight champion left out of this summer's UFC 200 event after a dispute over promotional activities.
While a contest between Mayweather and McGregor would undoubtedly capture the public's imagination, there are host of other possibilities available to the unbeaten American boxer.
Promoter Bob Arum confirmed last week that a rematch between Mayweather and Manny Pacquiao is a "possibility," while both Khan and Danny Garcia would be keen to cash in on what would be a massive payday if they were given the opportunity.
Khan is the current mandatory challenger for Garcia's welterweight title, with WBC president Mauricio Sulaiman saying he remains their No 1 contender despite his brutal sixth-round KO by Alvarez.
"I'm not sure what number ranking he will be, but Amir Khan is the mandatory contender in the welterweight division," he said.
"Once he's medically cleared, we will address it."
However, a Mayweather comeback could throw a spanner in the works for Khan.
Having previously twice knocked back the chance to take on Khan in the past it would come as no surprise if he stole the Garcia bout from under his nose.
If Mayweather does come back into the mix in search of his 50th career victory, the Bolton fighter could be forced to switch his attentions elsewhere.
Current IBF welterweight champion Kell Brook has wanted take on Khan for a number of years and was quick to stake his claim on Twitter after seeing his rival demolished by Alvarez.