Oakland's Kay Felder jumps into NBA draft spotlight (VIDEO)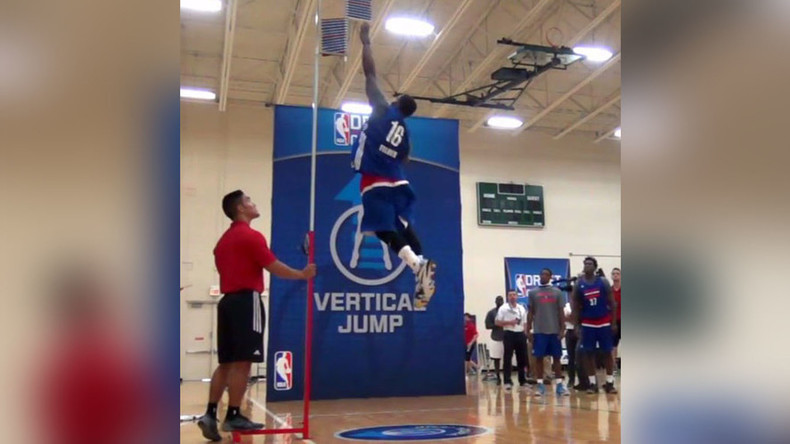 Former Oakland University guard Kay Felder boosted his draft prospects after recording a 44-inch max vertical jump at the NBA combine on Thursday.
At just 5ft 8in (1.75m) tall, Felder, 21, was the shortest player on show, but his leap was the second-highest in the event's history.
"I've never tested it, because I'm a great leaper - that's one thing I do," said Felder.
Ex-Memphis player DJ Stephens is the current record holder at 6ft 5in (116.84cm), which he set in 2013.
Felder also impressed during a five-on-five scrimmage, posting 11 points, four assists, four steals and five turnovers in 23 minutes. He also hit four-of-seven from the field.
"Try to win the game - that was my mindset," he said. "And don't let anybody score on you."
His defensive attributes were often questioned at Oakland, but he showed plenty of determination in this area during the event.
"Every team that I talked to asked about my defense. I said I was going to prove it here or at workouts," he added.
"The coach said pick and choose your spots and don't try to pick up fouls.
"[I] just have to be aggressive on defense to show I can play defense, because that's one thing that's going to get me to the next level."
Felder finished the college season with an average of 24.4 points per games, the fourth-highest overall, and first in assists (9.3).
He first came to prominence with 37 points and nine assists against highly-rated Michigan State earlier this season and he is hoping his performances catapult him up the draft order despite his diminutive stature.
"People have definitely given me a chance. I used to hear about the height thing all the time and now I'm barely hearing about it," Felder said.
Boston, Denver, Brooklyn, Orlando, Cleveland, Phoenix and Utah are all thought to have shown an interest in Felder, and ESPN analyst Fran Fraschilla expects him to be on a roster next season.
"Here's a guy that can really play," Fraschilla said. "An outlier because he's 5-9, but supremely skilled, great passer, gets fouled a lot, fearless."